Hey Gang! So we are in our second week with the kids and the good news is we are getting better a little each day. We never knew the phrase "two steps forward one step back" would mean so much to us. We feel like this is our motto on most days. Between the fussing, fighting, screaming, kicking (and that's just what they do to us) it's hard to see that it does indeed result in still one step forward for us as a whole.
The past couple of days have been mostly good. We are still nightly recording the days Goods and Bads and to see the "bads" list get shorter and shorter is such a Praise and one we surely are not worthy of. God has heard our crys (literally), the neighbors probably have too, and he has heard yours on our behalf and he has been so merciful to us.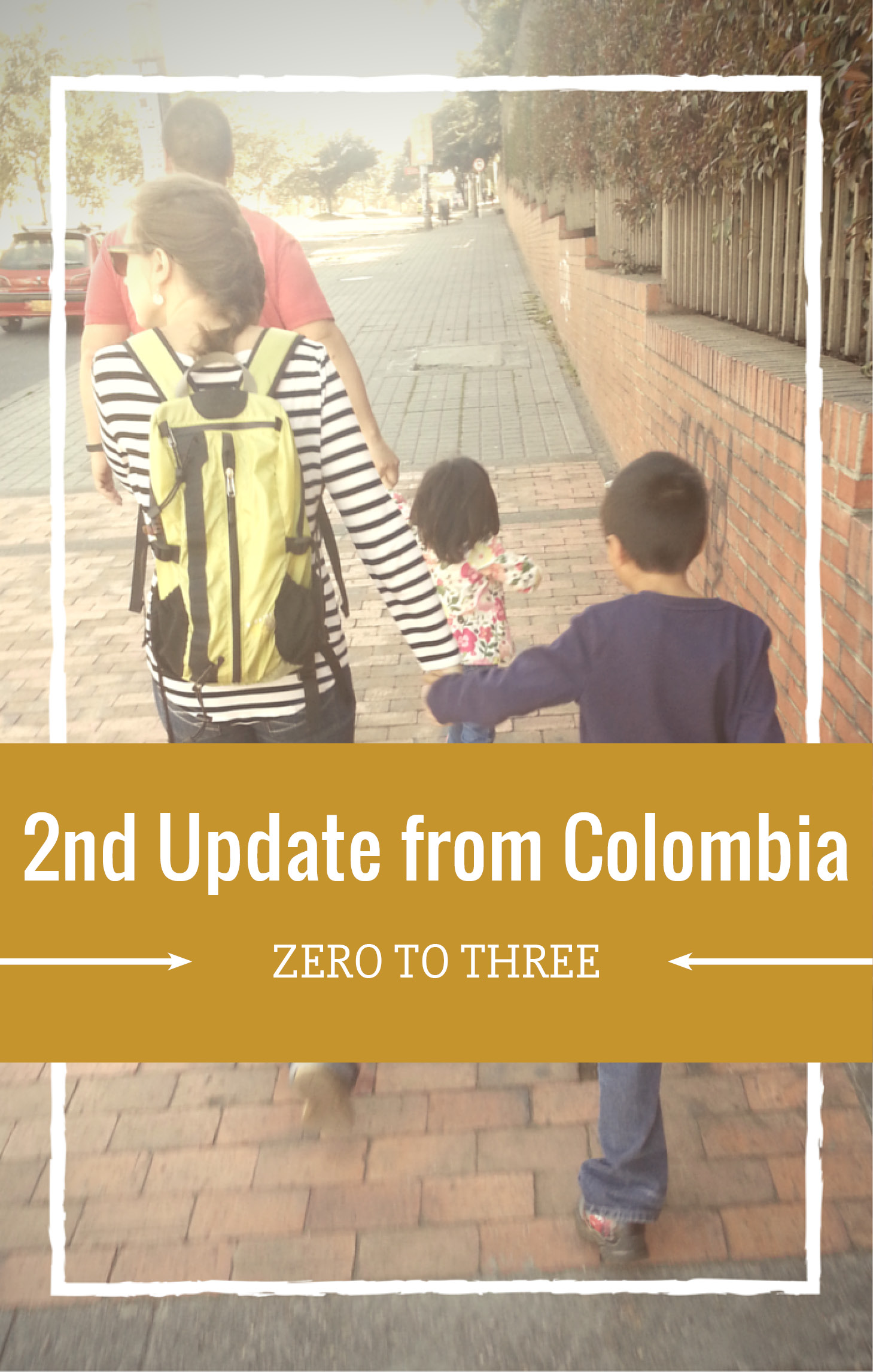 He has been showing us that we kick and scream and argue with him too every day and HE STILL puts up with us. How GREAT IS OUR GOD to deal with us and the way we act toward him sometimes. When we get screamed at NOOOOO really loud or QUE NOOOO (a more emphatic "NO" in Español) and they fall on the floor whining and pouting.
I cannot help but imagine myself in size 3T pajamas crying like a baby to our Heavenly Father whining about a situation, about a circumstance, etc. and Him just patiently putting up with me.
Oh GOD that you would give us more of an attitude to deal with them the way you deal with us. Only with the Lord's help can we do this day to day. When we feel exhausted God gives us rest that only he can provide, and yet somehow gets us up the next morning to do it all over again.
A few of the pictures we sent to family (that we cannot post here yet) are precious. One in particular is of the kids and a famous singer here in Bogota. His name is Christian Velez and he was born and raised in Soacha, Colombia, in an area called La Montaña (literally "The Mountain").
Our friends, Trish and Emory, visit this place weekly and we hope to visit while we are here as well. La Montaña is literally the poorest of the poor. Christian was sponsored as a world vision international child (think pennies a day feeds a child infomercial) and through love and support of his sponsors he was able to overcome the extreme circumstances there. He has since become the worship leader at Vida Bogota (the church we are attending here) and records his own music and goes on tour. For lack of a better term, he is basically Elvis around here, especially to the kids of La Montaña. It is simply amazing to see such a great success story through Christian, and it goes to show that no matter how insignificant it may seem, we all can make a difference in a child's life…from sponsoring a child, to child advocacy, to adoption, and everywhere in-between.
We have had a difficult time enforcing rules that were completely non-existent to them before. We have to keep them out of cabinets just as you would any other kid. But we also have to keep in mind that when they get in our cabinets that could mean they are hungry, so getting them to tell us when they are hungry and also to get them to ask first is really tough. We have had great encouragement from you guys and others, so thank you for your prayers and support.
…As we finish typing this one of the kids has locked a bedroom door in the apartment. Thank God no one was inside. We are having to call a locksmith, since there are no keys to it. All the kids are screaming and crying because we were on our way to get burgers and now we have to wait. One has literally cried herself to sleep over it while we wait on the locksmith. Ahhhhh Satan is around every corner.
Prayers
Michel and Jennifer bonding… they clash about half of the day because of our attitudes and determination and I hate being told NOOOOOOOO
That our case would be accepted by the courts quickly so that it gets to a judge (Monday is another holiday so that puts an extra day in there)
Once it gets to a judge which can take a few days they have 10 business days to accept it (pray it would be much less)
Pray for our homesickness, we miss you all, family and friends and the dogs
That our Dr. appts for the kids next week would go well (TB Test, vaccine so they can leave the country when its time, etc.)
That we could continue bonding to them and that we'd love them more everyday despite difficulties
Praises
Things are slowly getting better. We've had some fun days lately
We met up with some missionary friends since we have been down here and they have come to the rescue more than once and God always knows when we need them
We had pizza/playland day and it was so fun and 1/2 price!
We have gotten a good routine of taking one child to the store for food and the other parent staying at home with 2 kids
They are almost up to sleeping 9 hours and still no one peed in the bed
Until we are home.