We've been in the new house a few months now and it's time to start getting to work on some furniture. I'm excited to share this one with you! Here's a before and after to get us started.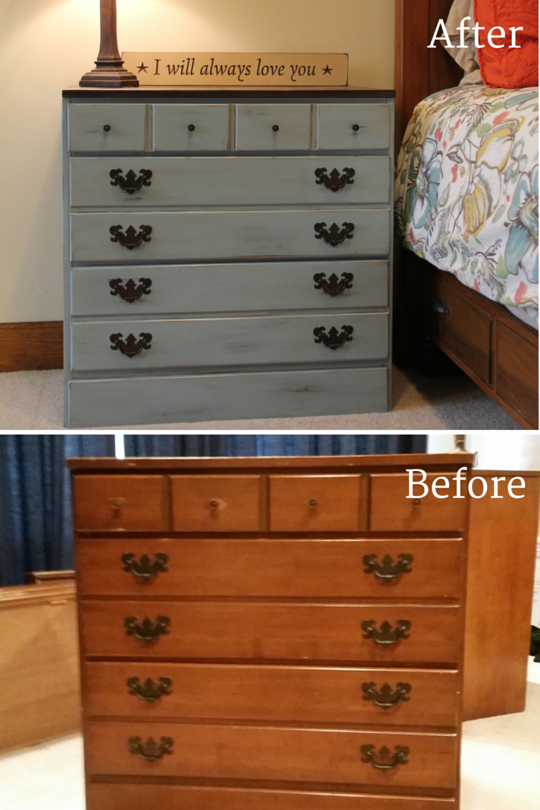 I was browsing on a local Facebook Buy Trade group and came across two dressers. I was looking for a few night stands for the girls' room since we painted those recently, but found these instead. I immediately asked Nick if I could go get them the next day, and told him how much they were. They were a steal at $75 a piece. They had dovetailed drawers and were solid wood, no further info needed, Sold!
They were so cute and exactly the size and so I was looking for. It helps to know what you're looking for ahead of time and I was definitely looking for something similar to this. A matching, solid wood, well built set is always my favorite. Once we got them home we realized we just bought ourselves two King Size nightstands and we're going to give the girls our current ones which will be perfect for their twin beds.
For this project I really wanted to do a stained top with painted bottoms. I always see so many cute pieces done by distressing and making pieces look worn and old. We work so hard on building brand new wood furniture that I usually want our furniture to look really nice and crisp. However, the old and worn look at starting to grow on me.
Here's how I refinished these cuties.
---
Step 1: Hardware
First take off the drawer hardware. I label it and seal it in a bag with colored tape and put a piece of the same color in each drawer or part of the piece of furniture. You'll thank yourself.
---
Step 2: Sand
We started by sanding the boxes themselves. I also checked the drawers out and made a few quick repairs to some of the dove tales that had come loose. It just took a little bit of glue to get them right back in shape.
---
Step 3: Color Choice
I had a certain color blue in mind and decided to mix up a custom batch of blue from a few sample quarts that I found at Home Depot. $2 each in the reject pile, score. I also had a little bit of milk paint and in Colonial Blue from General Finishes remaining from Brandon's bedroom set that we painted before we moved. I mixed all three together in a 2 gallon bucket and came up with what I call the perfect baby boy blue. Except these were for us now, not kids!
The kind of paint I had said "paint and primer in one" but it was also meant for walls so I didn't fully trust its priming ability on my new furniture.
---
Step 4: Stripper
For the top I used a liquid stripper and poured the stripper on the top and painted that on lightly. A few years ago we made a small goof up on a project and I really learned how to use this stuff. You have to put it on thick. Don't be stingy. You only brush it in one direction. And you have to wait the actual full amount of time and that's true.
---
Step 5: Wait for it…
I know I'm terrible at waiting too, get over it! After letting the stripper work I proceeded to scrape it off with a putty knife and that took away a lot of the finish that I would have spent hours sanding off. Since I was only staining the top that's the only surface that I cared enough to get down to the bare wood. I took my orbital sander, placed a 60 grit sandpaper pad on it, and went to town on the top.
All of the rest of the pieces I just lightly scuffed with 150 grit sandpaper by hand. This basically took off a lot of dirt and evened out a few places that had some wear.
---
Step 6: Sand the top bare
If you get most of the residue off with mineral spirits after you use the stripper this and it will go much easier. I proceeded to move through the grits of sandpaper on the top and around it's edges 60-80-100-150.
In another post I talk about two tricks I learned over the years that have really helped me visualize exactly how to sand, why to do it that way, and it's helped me become a much better finisher.
To prepare for painting I stick a little bit of painter's tape around the top edges to prevent my blue paint paint from splattering on my sanded top.
---
Step 7: Paint
I chose to hand paint this with just a brush this time. I have a really nice HVLP paint sprayer that I use for a lot of projects and just chose to not use it this time mainly because of the noise it makes and I did a lot of this during nap time. I only ended up using about a half of a quart of paint that I had mixed up. These dressers really don't take that much paint and it's nice that I have enough that I could do another piece in the future if we wanted.
I used a brush for the drawers and a roller for the sides. I knew that I would be lightly sanding the surface to get ready for the distressing so the texture that a brush or roller left didn't really make a difference to me but if you're thinking for future projects you may want to pay attention as they leave different marks.
I went from one side to the next side and all the pieces in the middle painted both pieces blue propped it up on some little wood blocks so that I can get all the way to the bottom and then lastly painted the drawers.
I let the paint dry until the next day before I touched it. Waiting on paint to dry is one of the most painful things in my hobby life. But just like many other things in life, so worth it when you wait.
---
Step 8: Don't stress, Distress
I decided to lightly distress the corners and a few places where you would naturally hit it.
I would suggest before you begin to distress a piece of furniture that you use it for a little bit of time. In this case I noticed that my knuckles and fingernails hit right below the drawer handles. I also noticed that the dogs ran into the corners a lot. I know the thought of seeing an ugly piece of furniture in your house for a few weeks seems counterproductive, especially if it's something heavy, but if you're able to do this it's really helpful. If you're not able to, you can always stimulate it and just use it for a few minutes and think where would you get the most wear.
I took one block of 80 grit sandpaper and another block of 150. That 80 grit sandpaper really takes off a lot so be careful where you use it. Only the places that would really get a lot of damage and wear need to be distressed with 80 grit.
Once I was satisfied with the places that I distressed I gave it one last look over. I have a tendency to get a little more easy and excited with my sandpaper the farther I go. Always go back and look at the first few places that you distressed and even it up.
I brushed off and wiped down each piece with a damp paper towel and make sure the all the dust was gone from my sanding.
---
Step 9: Poly
The next day I mixed to a cup of half satin water based polyurethane with a little bit of water to thin it out. Putting a really light coat of clear varnish or polyurethane will really help the glaze glide over the paint instead of getting stuck everywhere. We do want it to get stuck in the crevices but I didn't want to turn my whole blue piece of furniture brown. I would rather layer the glaze and have more control over it.
I let the polyurethane dry for another day. More waiting.
---
Step 10: Glaze
The next day when the polyurethane was dry I was ready to glaze. I took each dresser drawer and propped it up on my workbench and applied the glaze like this.
As I mentioned in the video I really like to use General Finishes brand for about any of my projects. I find the little bit of extra cost is well worth it. I consistently find that theory to be true in almost every aspect of woodworking. I try to keep in mind that I'm already saving a ton of money by making something or refinishing it myself. So spend an extra $5 to $10 on some really good glaze/stain/paint. It's going to do your piece a lot more justice for how hard you worked on it.
I also mix a little bit of water into the glaze as it was water based as well. I didn't want it to be super thick and again I was scared of making the blue really brown and I didn't want that.
Paint the glaze on with an old paintbrush pretty heavily, especially in any cracks and crevices that you have and down the edges. You would be surprised even with the polyurethane code on top how much the glaze soaks into the areas that you sanded.
I then took a roll of clean paper towels and begin to wipe off my glaze. I keep a brush loaded with more glaze handy in case I wipe too much off. And I wipe the glaze until I'm happy with it. Adding the water to the glaze and having put a coat of polyurethane on first, really gives me more time to work on my piece.
I put each drawer up on the workbench and glazed each one and then moved on to the bases and and the trim pieces of the bases. I've then left the glaze alone to be able to dry until the next day.
---
Step 11: Top Coat
After the glaze was dry I was ready for one last coat of polyurethane. Just keep in mind with a glaze… a glaze is NOT a top coat and you will still need to protect it.
I also put one last coat of polyurethane over my stain on the top and wet sanded it with a 400 grit paper. This process of wet sanding is not a way to skip all the other sanding that you did previously. It's just the last final coat and I find the if I lubricate the sandpaper this helps to get a really smooth finish in the end. Did you just read lubricate and sandpaper in the same sentence? If that confused you listen here.
I let all of it dry a couple more days in the garage before moving them upstairs. More waiting Jenn, seriously?! Yes, wait! Because in the end if I mess up a piece or scratch it because I couldn't wait one more stinkin' day for the next step then silly me.
---
Step 12: Smile at your work
These turned out so perfect for our room and because of the size of them we had to move our bed over a little bit which in turn also made a room feel bigger. I hope this project was of some encouragement to you. Remember to wait in between your steps don't rush. And don't be afraid to try new things.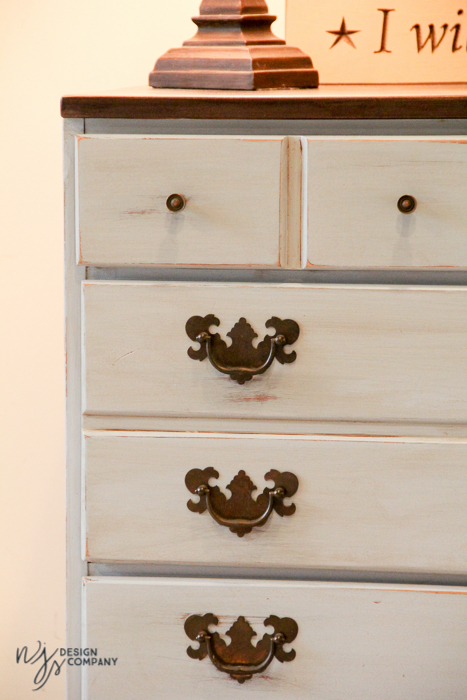 Did I miss anything? What questions do you have about our dressers or this makeover? Let me know.