Searching for a project that you can do during nap time? If you're thinking your house just needs one more "thing" to make it cute for Christmas, but you're like me and kinda over the red. Here ya go! I am so in love with this sign I smile a little when I walk past it. I've made plenty of signs before but usually get the most bang for my buck and make ones that last all year. So this Christmas only one was a new idea for me.
Here's how I made this and all it took me was 2 days worth of my kids naps. That time frame was really only to let the paint and stain dry, or else it could be done even quicker.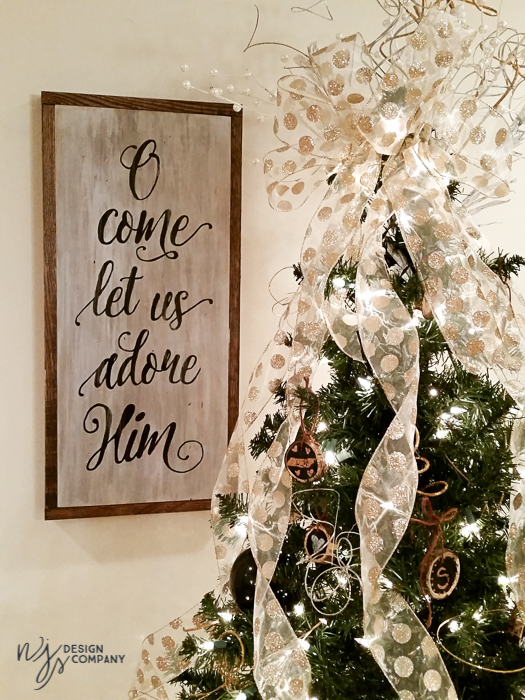 ---
Step 1: Measure and Cut
Decide what size you want your print to be.
I measured the wall area around our tree and threw up a couple of ideal sizes. I also happen to always have scrap wood laying around #woodworkerperks so I based some of my measuring off of those pieces. I had a 1×12 board left from the Christmas Card Holder so I knew my sign would be about 11 1/4″ wide and just needed to find the length. I went with 25 1/2 for no other reason than it looked "about right".
I cut this board on our table saw but you could also cut it with a circular saw. It's a simple straight cut.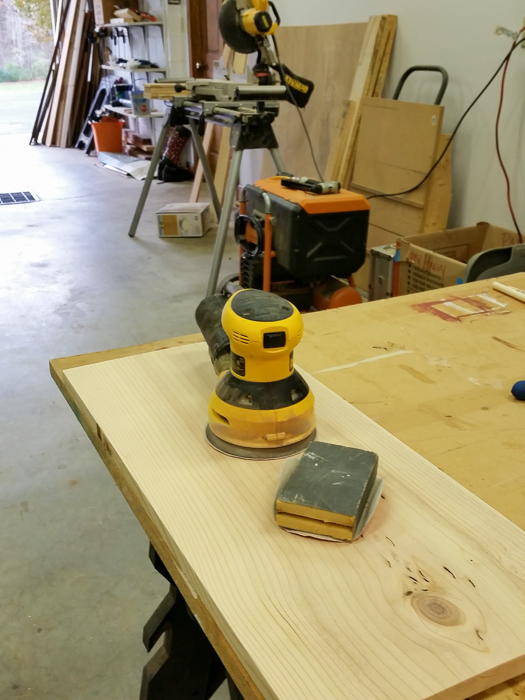 ---
Step 2: Layout your Design
I used Adobe Illustrator for this specific one. I could use InDesign or Photoshop as well. If you don't have any of those software programs, no fear. Canva.com has some great templates and as long as you know the size you need you can lay out the text word by word on there and be golden.
Play around with different fonts. I used a font called Pretty Script (no longer available online apparently… try this alternative) and also took advantage of some of it's alternatives to get those cute endings and beginnings on some of them. The font size ended up being 380pt, which is huge!
Once you find a font you like you can move the words around on the page to get a good layout.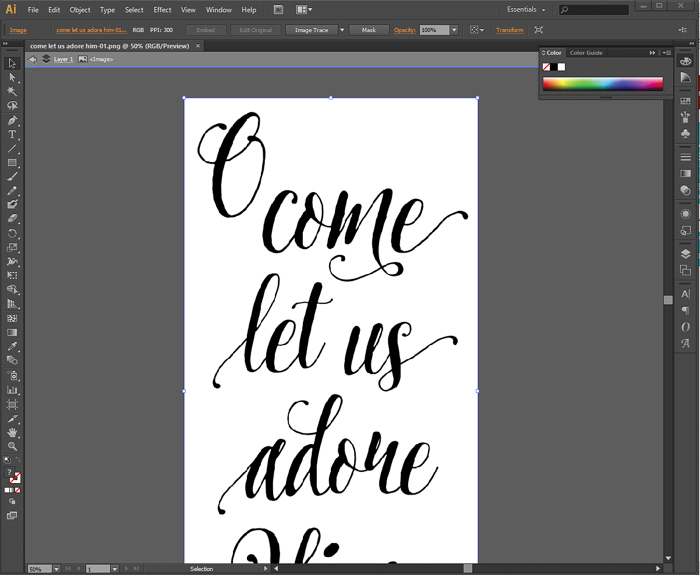 ---
Step 3: Measure and Cut Trim pieces
Lay your board out on a flat surface. Measure across for the width and up and down for the length. Remember the pieces will overlap on one end or the other, unless you miter them. No miters for me today guys, nap time remember, limited on time.
I let the shorter width pieces hang out past the actual board and then butted the side trim pieces up to that bottom piece.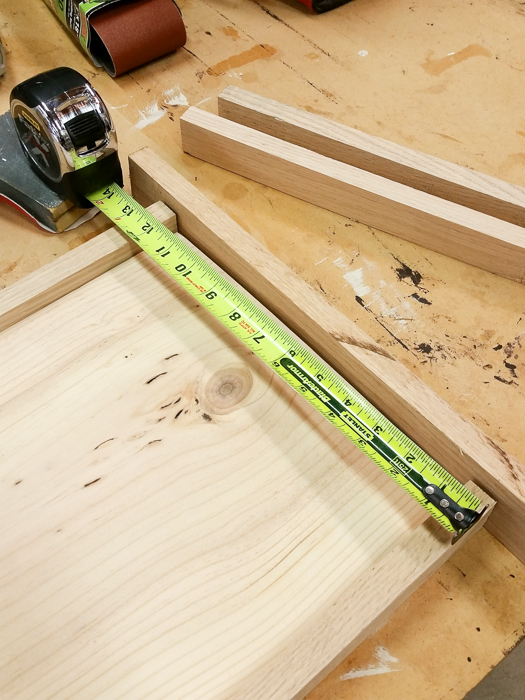 After I was confident in the measurements I made my cuts.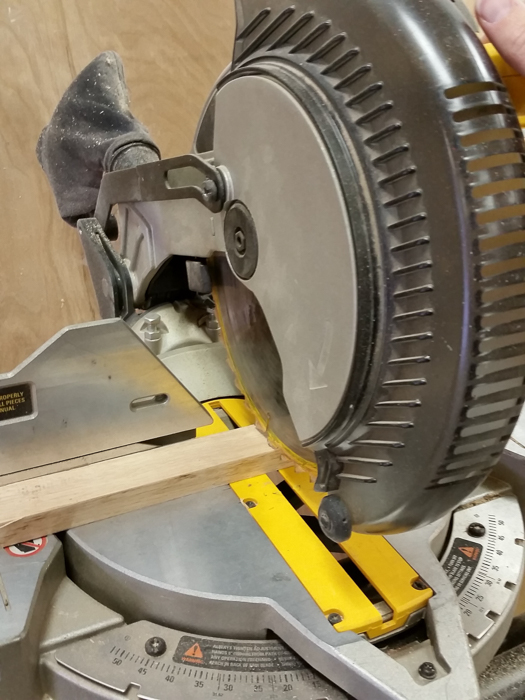 ---
Step 4: Planer (OPTIONAL)
Those of you who even know what a planer is are like what, I thought you said this was during nap time. Yes it was during nap time and my kids are heavy sleepers. Jesus gets all the glory for that one!
You do not NEED a planer for this project. I used scrap pieces of oak that happened to be different thicknesses and so that had to be fixed.
If you were to use just regular pine 1×2's for this you would be great to skip this step.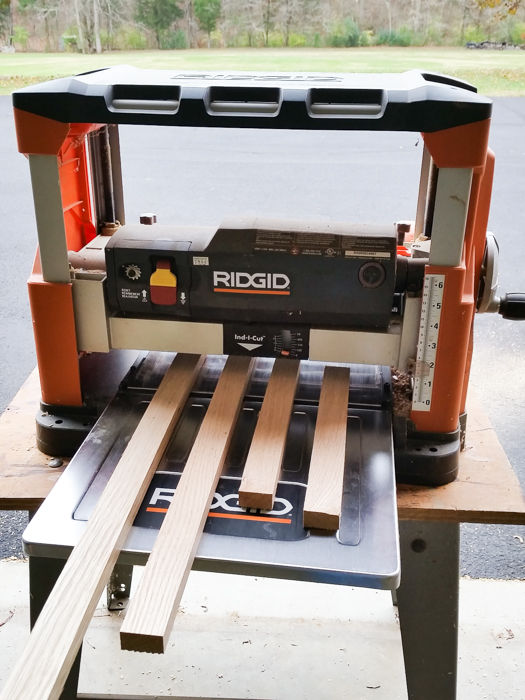 See how that made them all the same height. They were already the same width.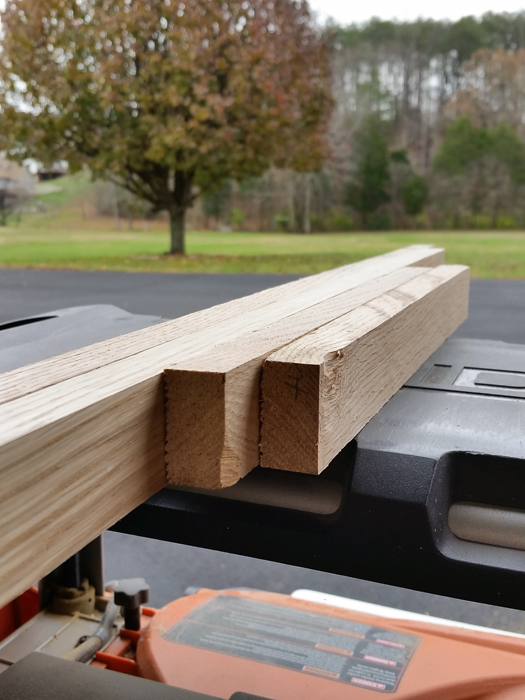 Do a dry fit to make sure they look right and will fit where you want them.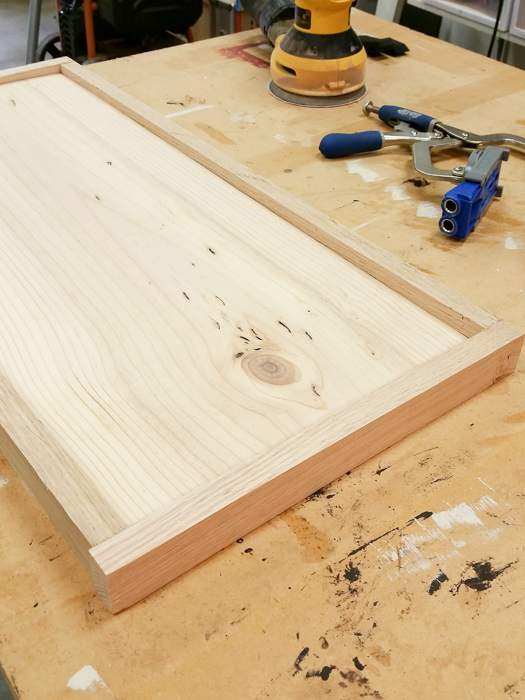 ---
Step 5: Pocket Holes
I set up my Kreg Jig (if you don't have one add it to that Christmas list yesterday!). I set mine up to be at 3/4″ for both the bit, in the drill, and the Kreg unit itself.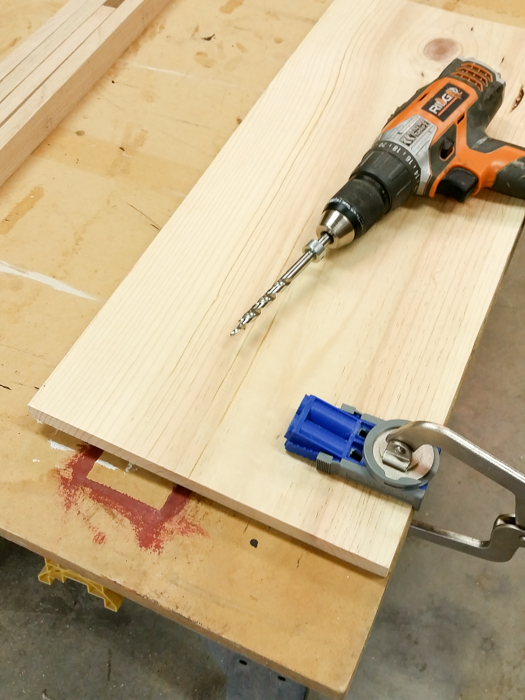 ---
Step 6: Distress
Find a few objects around the house that you've been dying to throw at someone…I mean waiting to distress something with… and go to town.
You have my full permission, hit it as hard as you need!
I used a paint can opener, a drill bit, and a hammer. I like to distress the wood before staining so that the stain sinks in. You could also stain a light coat, distress, then stain another light coat.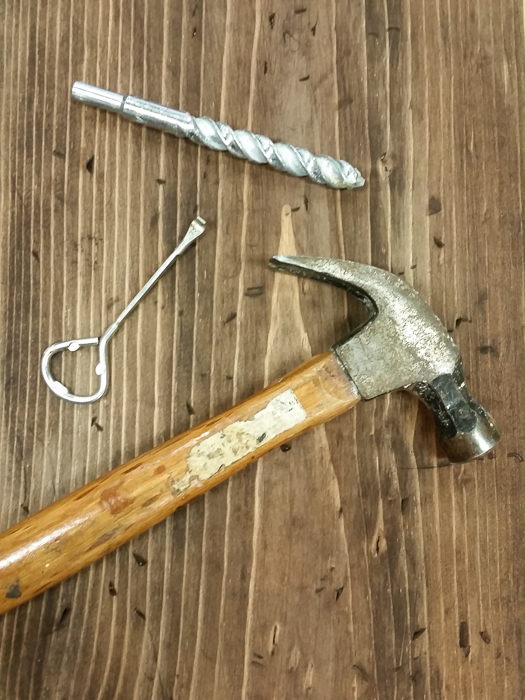 ---
Step 7: Stain
I used General Finishes Brown Mahogany water based stain for this one. I just wanted a normal, nothing fancy, light brown coat underneath the whitewash that I was going to put on top.
Just put on some gloves, wipe it on gently with a sponge brush or an old cotton rag and wipe it off right after.
The trickiest thing about the water based stains is working in sections. This quirk should not affect you here but keep it in mind for future projects.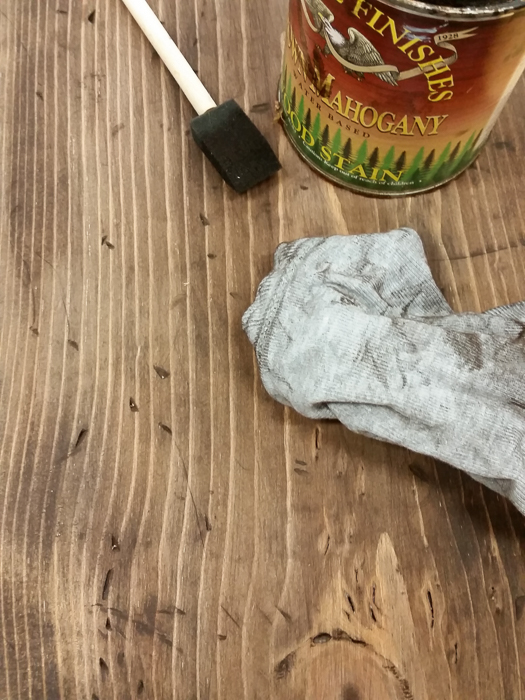 I also stained the trim pieces. Even though I am going to paint over the stain on top I wanted the sides to match the main color of stain.
At this point I stopped for the day to make sure the stain was soaked into the wood and fully dry before painting on top of it.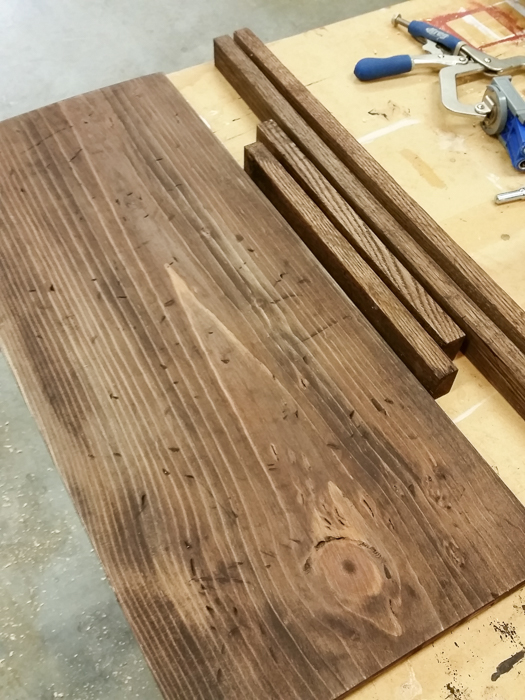 ---
Step 8: Whitewash
After your stain is dry you're ready to whitewash.
I mixed up some random grey and tan and white paints I had laying around. You could also buy one of those 2 oz. small acrylic paints in any of your favorite colors and water it down a little. That would do the trick just fine. I water mine down about 10-25% water to 75% paint.
Lightly "wash" the paint over the stain. I immediately wipe it off and rub it into the stain finish.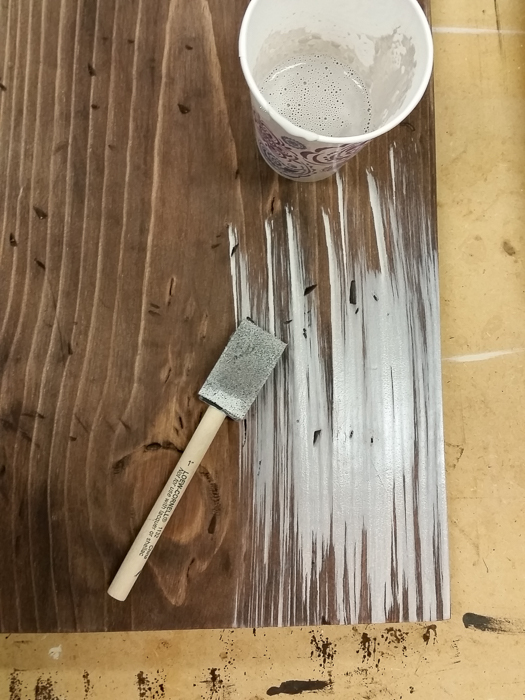 Immediately wipe it away.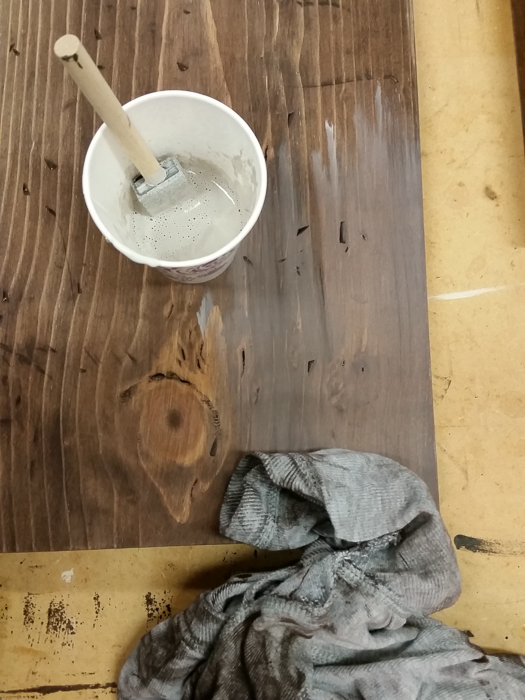 I applied, wiped, applied, wiped again and again a few times until it built up a finish like this.
If it's not achieving the paint color you want, try letting the paint dry a little bit in between or adding less water to the paint.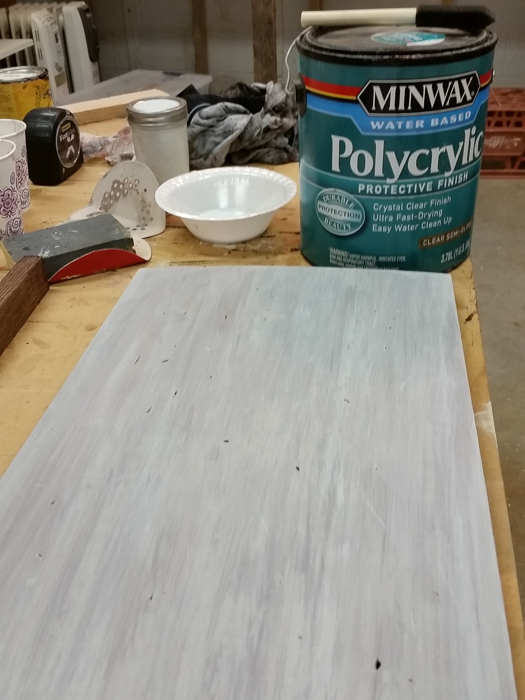 ---
Step 9: Print Layout
While the board dried I went up to my printer and opened InDesign. I choose to use this since it has an easy tiling feature that prints the pages all at one time but creates an overlap for making them one big page.
Most print dialog boxes will give you this option. If you made your original print into a pdf Adobe Reader (free) should give you the option to tile as well.
It looks like this for me. See that TILE option set to AUTO? That's where the magic happens.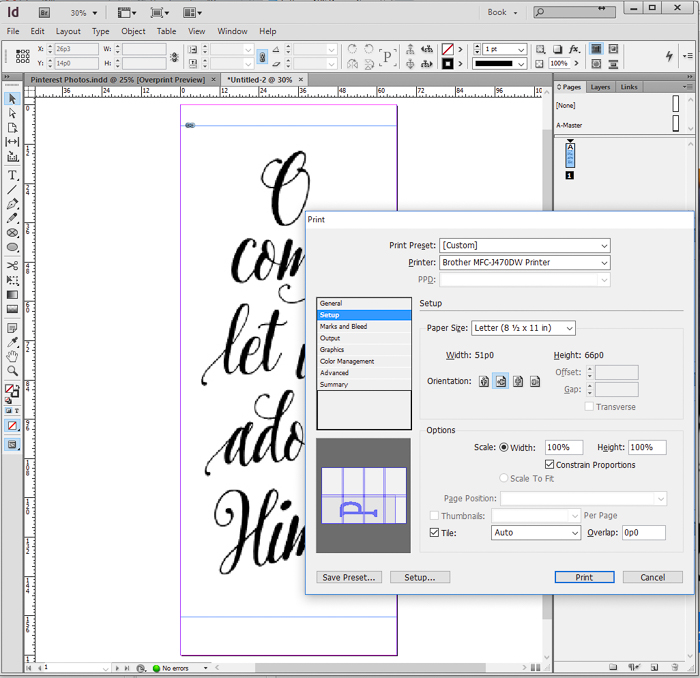 After it's printed I lay out the design on the floor and line it all up. The pages will overlap slightly, and you can cut them into a more manageable size.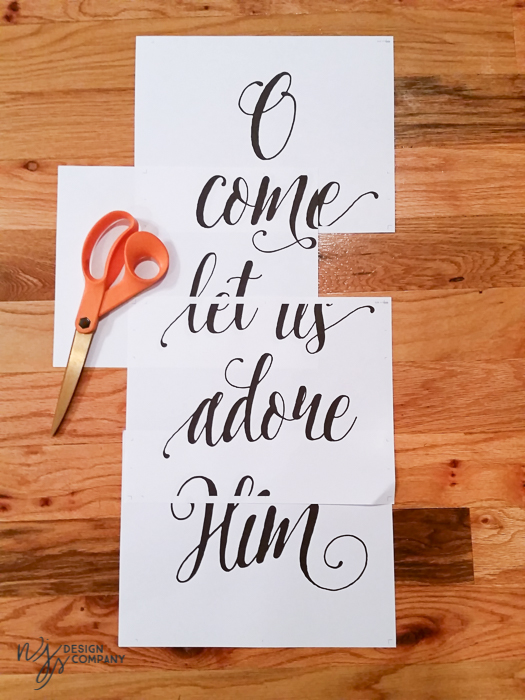 ---
Step 10: Placement and Tracing
I then laid out my text on top of the wood and used painters tape to hold it in place.
For this project I made sure I had some Carbon Transfer Paper on hand. I bought mine here.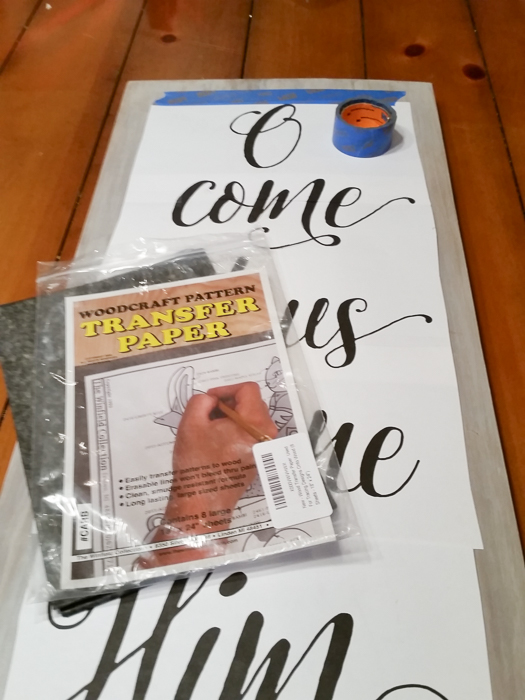 This was a big enough sheet but even if you had an 8×10 sheet you could just move it around and around until it was all taken care of and all letters were traced.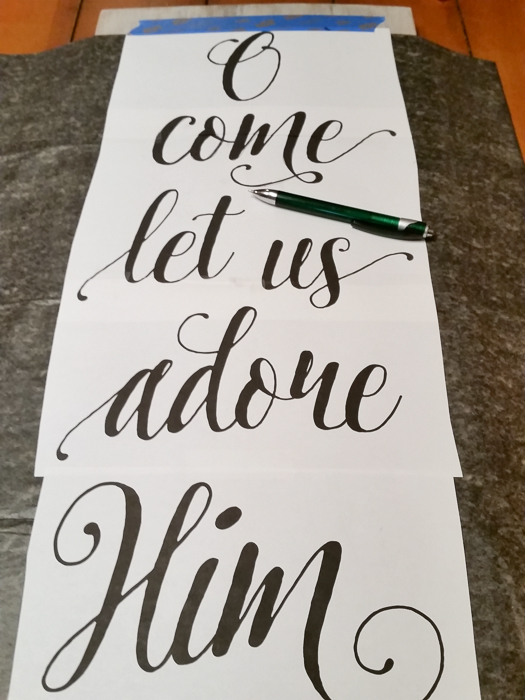 ---
Step 11: Tracing
Use an ink pen or blunt object to trace around each letter. Depending on how good your freehand work is I like to trace the letters as exact as I can but you could also just trace down the center of each letter and freehand after that with the paint.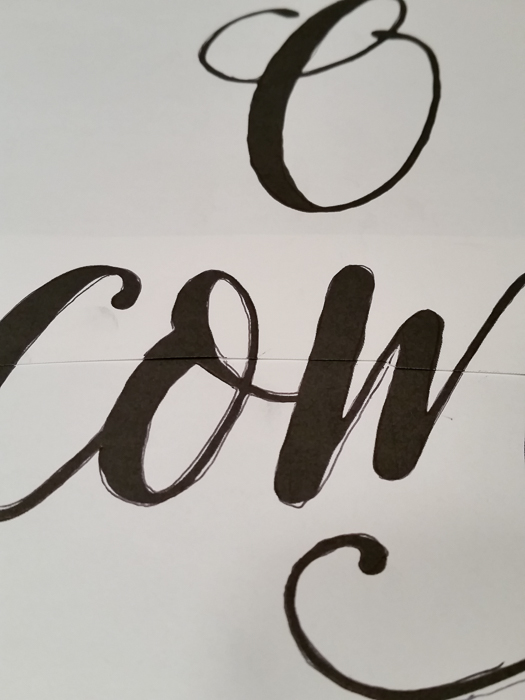 Can you see why you need some of this stuff? Love me some transfer paper!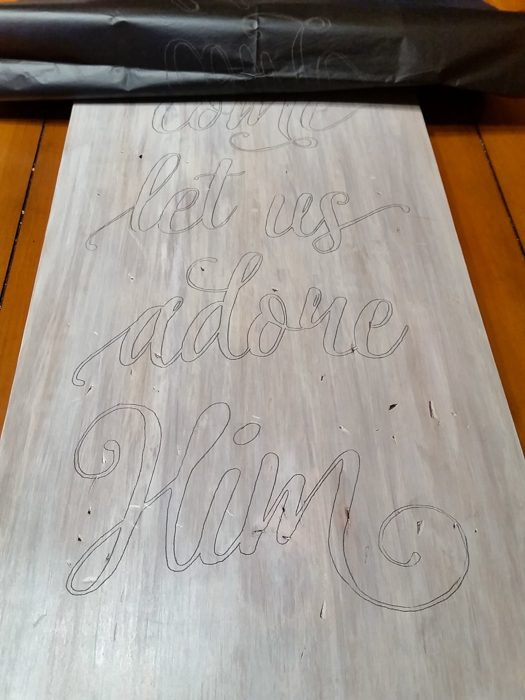 ---
Step 12: Painting Letters
You could do this by hand with a brush or with a paint pen. They each have their unique situations and I thought for this one the paint pen would be best.
I use these Deco Art Acrylic paint pens and they are my favorite.
Keep in mind, these are different than the sharpie brand paint pens. These are water based acrylic pens with real paint in them, not oil based pens. They flow really nicely and if you've never used them I suggest you get a Michael's or Joann coupon get a black one 50% off and try it out.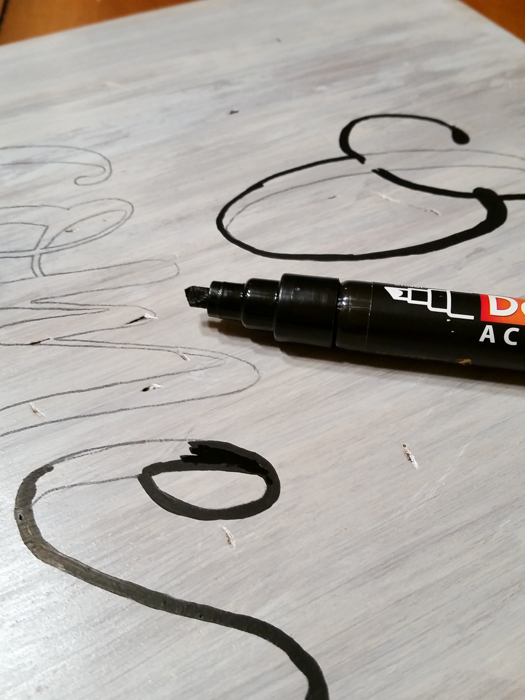 After the paint is dry I run a little bit of 220 or higher grit sandpaper over it just to scuff it up a bit. This also helps to alleviate any harsh lines or areas where the paint pen looks less realistic compared to brush marks.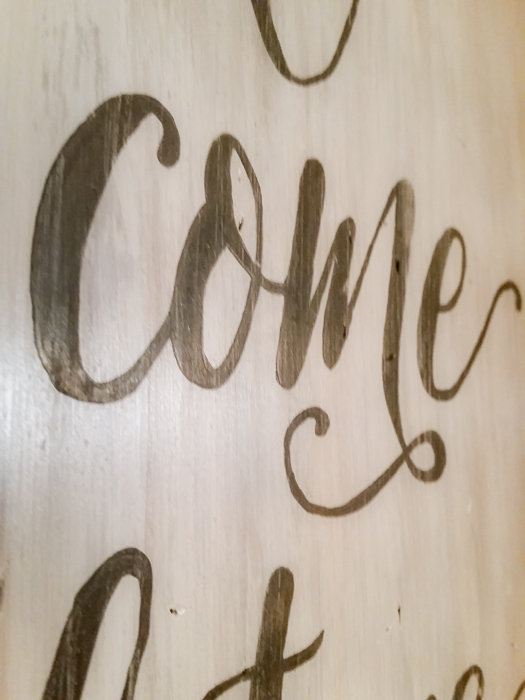 ---
Step 13: Attach Frame
I used a couple of small clamps as my "extra hand" to hold everything exactly where I wanted it.
You just drill through the pocket hole into the frame, making sure the wood and the frame on the FRONT of the piece are flush. This could be reversed if you want the artwork to set into it like a normal frame but I wanted them flush when I looked at it.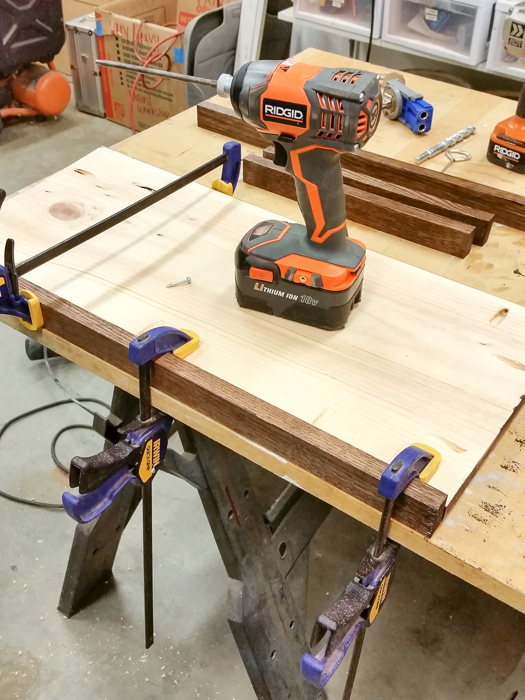 Lastly after attaching the frame I added wall hardware and some picture wire to hang it up with.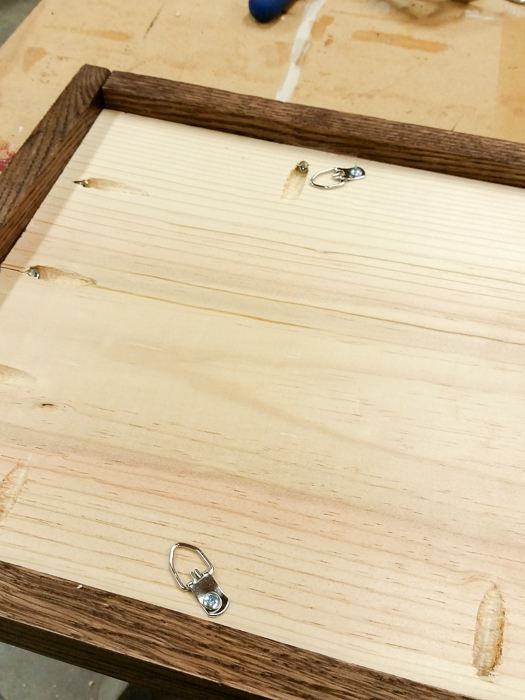 My last step of any project is to admire it, tell yourself good job, and be proud of it for a minute.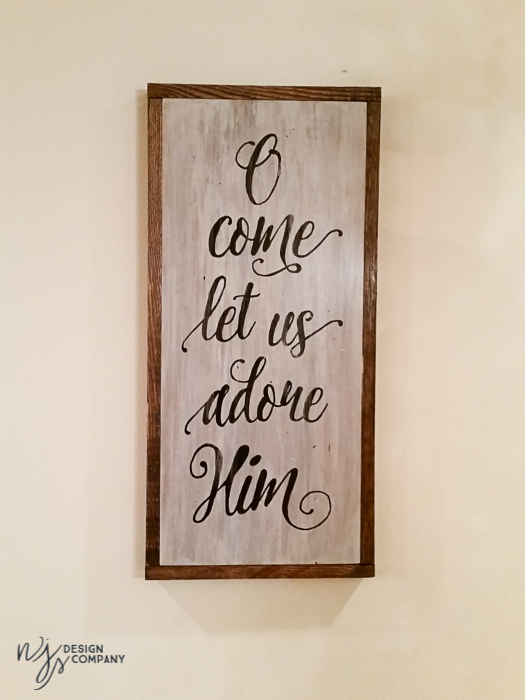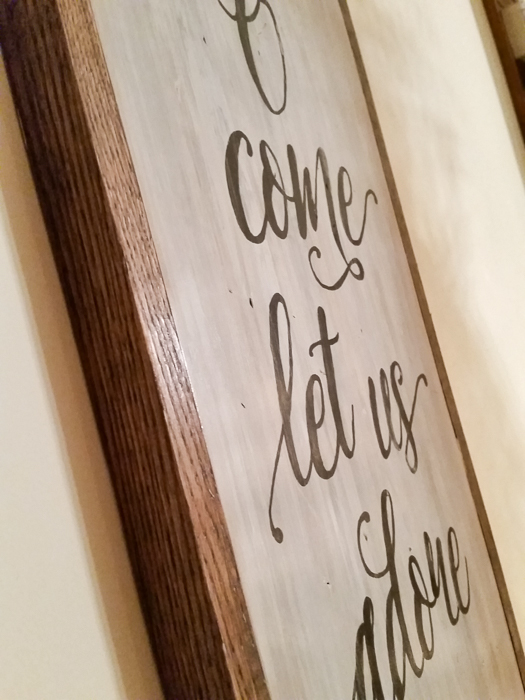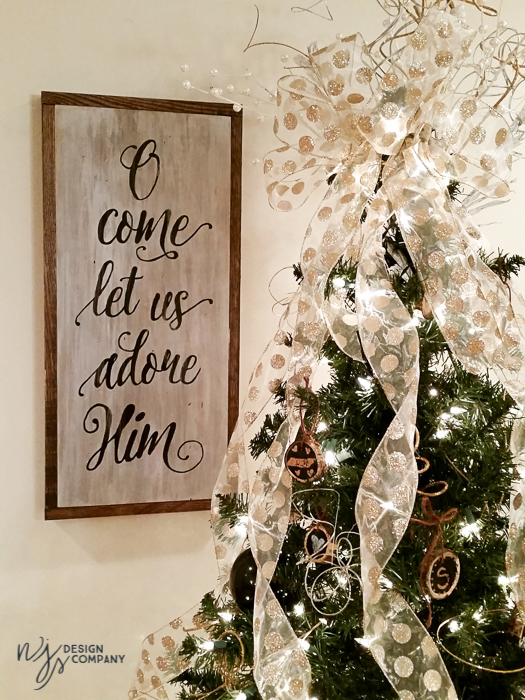 ---
A few hours after I decided it was for 'Christmas only' a friend posted on Instagram (if you don't follow me there I'd love to meet you there) and she had an art print with the same words on it. She talked about leaving it up all year since we still want to Adore Him always! I loved that thought so much that now I'm considering leaving it up all year!
If you have any questions or need any help with it let me know!
---
I'm currently designing websites for makers just like you. If you have any questions about building a brand or website let's chat.
---
One of my readers filmed this amazing video of him making the sign from this post. Check out his video here. It's really helpful! Thanks Chris so much!!
---