We're going on a marriage retreat in a couple of weeks. It's going to be great, and NO KIDS for the weekend! (thanks Ash and Mom)
If you're married and have the chance to go on one, do it! Go with friends, with church, or just yourself, just go!
Two years ago when we went we were asked to make a gift for a giveaway. Our custom cutting board was a huge hit so they asked us to make something else this time!
If you're looking for an easy gift for that Tennessee fan in your life this project is for you! You could do this same project for another state if you want, the process would be the exact same (but not as fun if you don't pick Tennessee). But, if you're not a Tennessee fan, no worries, just check out the process.
▼ Project Info & Tips
Cost: $3-5 each
Time: less than 1 hour
Difficulty: Moderate. The cuts are fairly easy, but you need either a jigsaw or bandsaw to make the cuts depending on your state.
▼ Shopping List
(1) 6′ Cedar Fence Picket (with the dog ears is ok)
▼ Cut List
Cedar Fence Picket – 1 @ 17 inches
---
Step 1: Cut
Cut your board to the desired length.
*Trying to decide which saw you need? Read this post.
I know, from making other TN shaped stuff previously, about the general size of my shape. If you had scrap board you could always cut it to size and then design the computer work coming up, to that size.
---
Step 2: Find your State
There are plenty of sites to find these on, but just google search for your state. I like to type in "state name png" or "state name clipart". You're only looking for the general shape, doesn't have to be super detailed.
---
Step 3: Transfer Paper
Get out your transfer paper. Make sure it's transfer paper, not tracing paper. This is like the carbon paper behind your checks. I buy mine on Amazon. You just need a little for this project, and it can be used over and over.
---
Step 4: Trace
Lay transfer paper face down (dark side to wood, lighter side up towards you). Then put your print out on top of your transfer paper. Draw over it with a blunt object, a pen is easiest so you can see your lines. Again, this doesn't have to be perfect, hit as many or as few details as you like.
Now you have your transferred image on the wood.
---
Step 5: Cut Shape
I do this on my bandsaw but you have a few options here. You could use a jig saw, although I find they bounce so much they are harder to control, but they are much more affordable than a big bandsaw.
* For an entire list of the tools in my shop you can visit the tools page.
Another good option would be a scroll saw. They are smaller than a band saw but larger and much easier to handle detail on than a jig saw.
On a band saw you need to adjust the height so that it's just a little higher than the wood thickness. This helps the blade to have less play and movement.
No matter which type of saw you are using it's best to cut some relief points.
With a jig saw this could be drilling holes first. With my band saw I cut small slits at some of the end points (think it it were a dot by dot drawing, where would the dots be?). This helps so that you don't have to back the blade all the way back through the cut and it gives you a pausing point.
---
Step 6: Sand
Lightly sand the top and edges with 150 grit paper. If you want it smoother, you can use a 220 grit, but 150 should be good since we're going to stain it.
Don't neglect all those little nooks and crannies!
Did I mention that once I made the first one of these I loved it so much just after the shape that I immediately cut out another one for our house too!
---
Step 7: Stain
I used a homemade stain for this project. If you haven't seen how to mix up a custom stain using vinegar and steel wool, you need to find the recipe yesterday. It needs to sit in the jar for a few days so do it ahead of time.
I just brushed it on with a foam brush, nothing fancy.
I really love wet sanding a project. For this one I wet sanded with 500 grit paper, but wet sanding is totally optional on this one. I just wanted it really really smooth.
---
Step 8: Distress
If you want to distress it at all, this is your chance. Lightly sand the edges of your state just taking a little off and back down to the bare wood. If you used the vinegar stain it rubs off really easily, regular stain might take a little more elbow grease to remove.
Notice how much the stain lightened up from wet to dry? Watch what comes next with the poly.
---
Step 9: Top Coat
I chose to use a water based polyurethane called polycrylic. It's made by minwax and is available in the big box stores. I have not used oil based poly over this vinegar stain, but I've tested the water based on a number of homemade stain projects and it's always come out good.
If it ain't broke don't fix it!
What a difference the poly makes. It darkens it up so much! Keep that in mind depending on the color you're going for. This homemade stain is really unpredictable which for this project was fine but for something nicer you have to be careful.
---
Step 10: Attach Hooks
Buy a small box of "cup hooks" or "mug hooks" they are specifically called that. Here is a small box at Joann. These are the 1 1/4 inch size.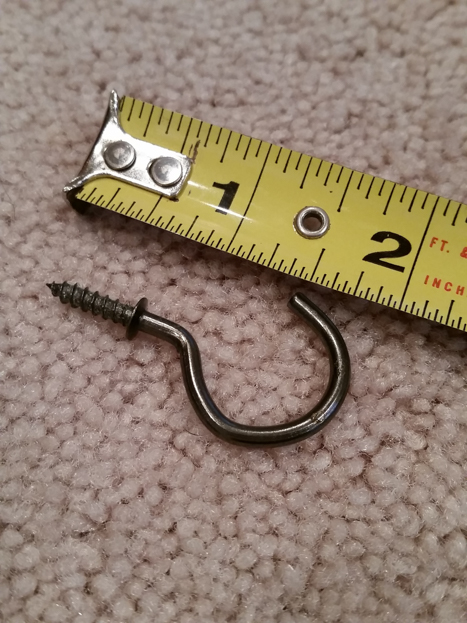 Get your drill bit ready.
I use a quick connect bit in my Ridgid impact drill but you could use any type of drill and you'll need a bit just smaller than the the threads of the screw end of the hook. Does that make sense?
Measure the length of the bottom of your state. In my case TN is 11 inches.
Mark holes with a pencil and make sure they are evenly spaced.
I wanted them a few inches off of each end and then evenly spaced throughout the middle. I did 4 hooks on this project, but depending on the size of your state, you could do more.
Honestly if you have more than 4 sets of keys I don't know how you keep your head on straight, mine have to stay put right on this thing or else they're lost in the fridge or something.
The ends of the mug hooks have a threaded screw, and since you've predrilled (you did pre-drill right?) then it's easy to hand tighten those all the way down.
Make sure you keep twisting until they are all facing the same direction, forward.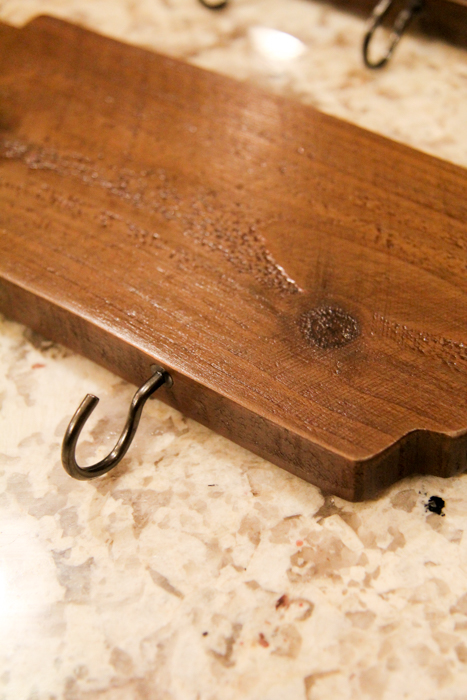 Finished! Now hang and admire!
I love the wood I used for these. It had some old circular saw marks and those are hard to come by. I'm glad the stain really showed them off. One of them also had some knots in it which I love and they match my DIY shelves hanging close by.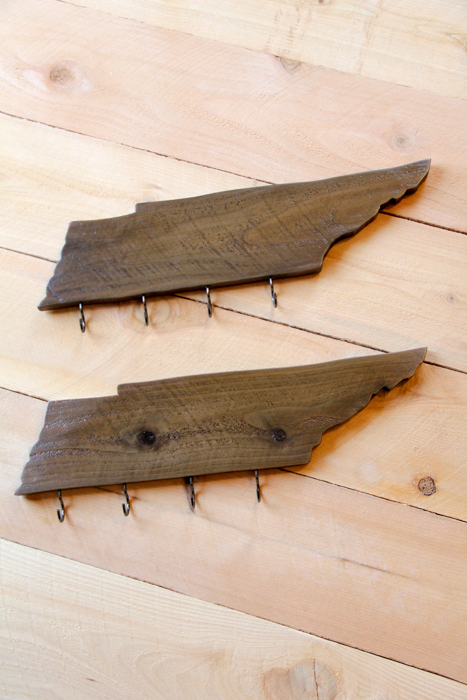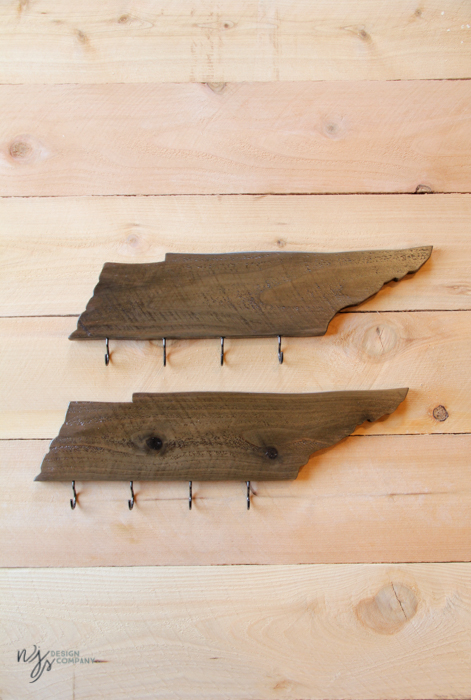 So was that easy? If you have any questions or if I left anything out, let me know in the comments.
No go find your favorite state and get to work! You might just love it so much you'll make two like me!