Hey Gang! This is our first updated from Colombia so feel free to pass this along. We're relying on you guys to help us spread the word that we are indeed alive and God is good!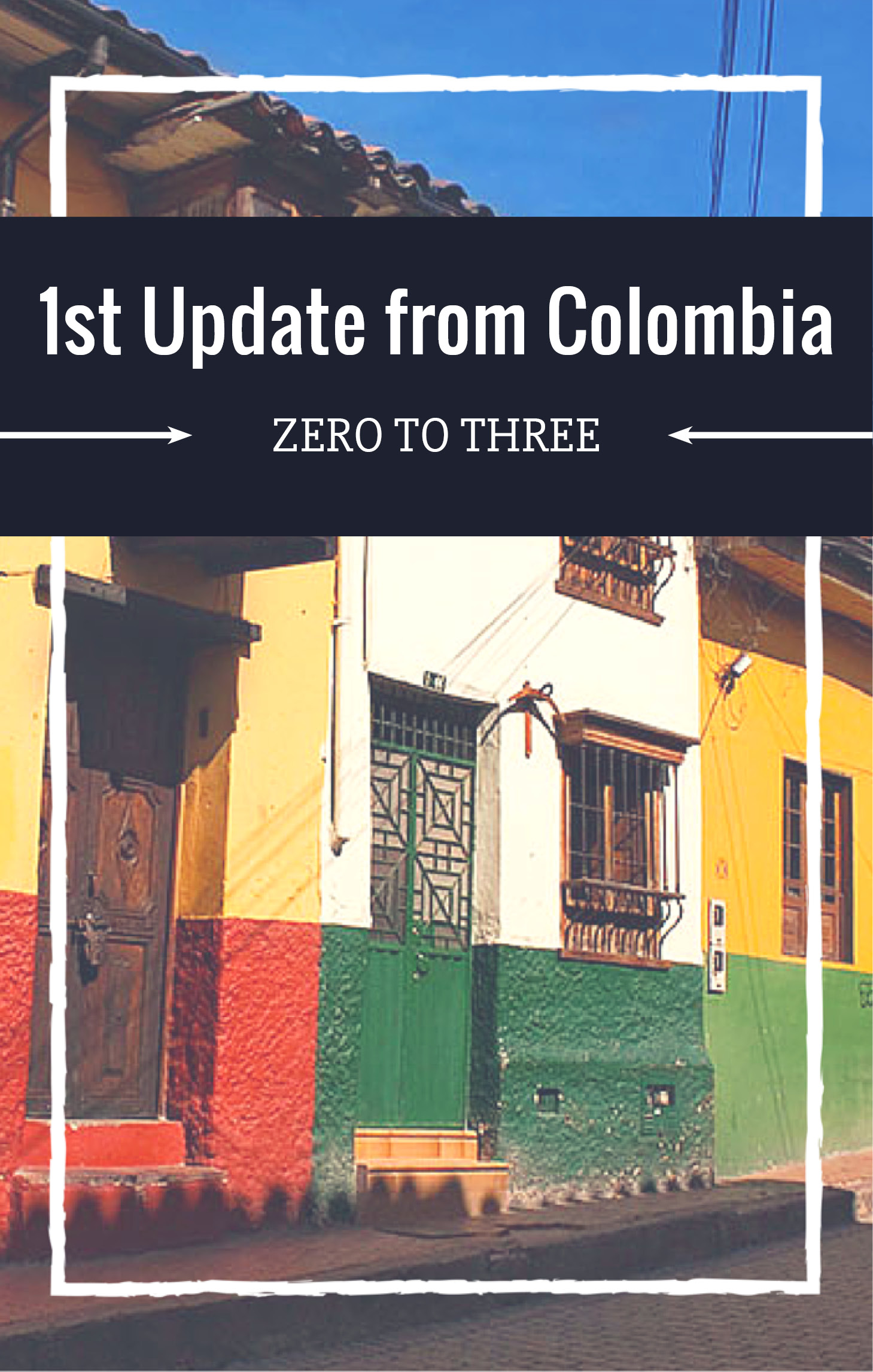 So one thing that we have been doing since getting the kids on Wednesday (besides occasionally pulling hair out and loosing weight) is to keep a list each day during the day and at night of the "goods" and "bads" of each day to look back on. When things get really loud, really overwhelming and really frustrating it is good to look at this list and see especially stuff on the "bad" list is sometimes typical kid behavior and sometimes things on the "good" list are just plain sweet for God to let us witness. Here are some things about our trip so far.
Bogota
The city is great, most days. Nick and I really really really miss our vehicles and didn't realize that as fun as it was to walk 8 + miles each day while it was just us here that now being trapped in the apartment is less than desirable. The apartment we've rented is so nice though. The neighbors have taken great care of us and our Spanish is improving by the hour. This is a BUSY packed city! You often see people hanging out the side of the bus to pack in tight. There are lots of small markets, butcher shops (where they don't use gloves or sanitation that we saw but we ate it anyway) and fresh fruit markets with so many fruits that we've never seen in our lives. We like it here and are trying to soak it up but if we could come home this afternoon we would do that too.
Vida Bogota
The church that we got to go to last Sunday and plan to while we are here is called Vida Bogota. We of course couldn't understand the entire sermon but the music was half English and half Spanish and the people were amazing. We spent the afternoon with 2 families until late that night and had to get a cab home. They take such good care of families here, one of the families from church is riding to our house tomorrow to take us on the bus for the first time to go to church as a family of five.
The Ninos
The Kids…. while I type this sitting on the couch Stiven is watching power rangers next to me and Nick has the girls squealing in the back room they are surely jumping all over him. So we have Stiven (Brandon Stiven but apparently he goes by Stiven which we found out on Monday after calling him Brandon for almost a year) and we have Daniela (Breidy Daniela who apparently goes by her middle name) and Michele Dayana who goes by Michele. We are limited to not posting pictures of their faces on social media so that's hard to not be sharing them with everyone.
So they are siblings…they fight as such. They have been loved by the foster family they were with but not disciplined very much. We feel that we say NO so much but we make sure we have as many or more "Buenos" Good or Good jobs!
They eat a lot!
They drink a lot of water.
They sleep mostly through the night.
They like to watch tv, play puzzles, and color.
Their personalities are pretty much just as we thought. Stiven is shy, but comes out when he does something well (like finishing a 100 piece puzzle with me this morning) Daniela is very much our handful and a half. We are constantly correcting her and trying to equally love her (and her fits). Michel has Nick's whole heart already she is so spoiled! She smiles and thinks she gets whatever she wants.
They all 3 already know what "popcorn" is and love having it after dinner along with a movie before bed. Nick and Jennifer (Papi y Mami) I should have let him write this part… here goes. We are doing ok. Honestly the most encouraging moments are to hear from my parents on Skype that we are doing good and they are proud of us.
There are tough moments/hours. We have literally been on our knees singing and praying at bedtime just for them to go to sleep. The first day with them I cried…a few times… and the next day was a little less. Still at moments we feel like it and it feels so good to cry out to the Lord who put us here for his Glory! So thankful no one can see me cry in the shower. It's my happy place to catch my breath, and pray. Please pray for our hearts, our hugs and our kisses and our conversations at night while they sleep. Pray that Nick actually gets to work while we are here, so he can save some vacation time.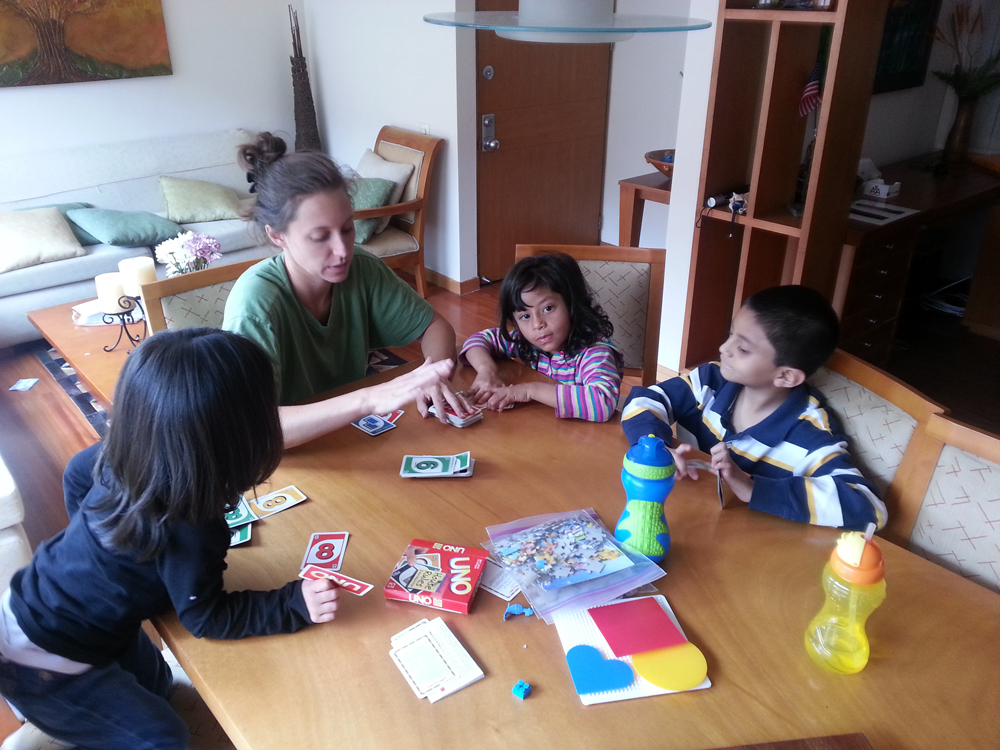 Yes I've lost over 10 lb in under 2 weeks. Don't judge me. You would too.
Prayers
That we could continue bonding and attaching to each other through the tough stuff.
That they would go to bed easier and sleep longer. This has been probably our biggest challenge so far.
That Nick and I would have patience and be able to focus on them individually too
That our integration meeting would go well on Wednesday and that the court process would go quickly so we can get home fast!
That our language barriers would disappear and that we could understand them more fully
Praises
We do have some really sweet times with them-they eat well (we didn't know how this would go)
Today they even said "perfecto" to our Colombian soup recipe.-We've survived day 4 with no serious injuries, sickness, or complete lack of sleep
We have so many people praying for us and we feel it all the time
Thank you for continuing to be behind us through this.
Thanks for listening to us (ME-Jennifer) whine about things, and thank you for loving us and showing us that we are not alone and that we can do this ONLY with HIS help!
Los Quieremos (We love you)