I used to collect Christmas ornaments. Not like my grandma's ornaments, or ones my kids have made, just sets of different themed ones. I quit buying them a few years ago and now I just make them each year. "Just make them" she says. No really, I just make them. These were so easy even my kids got in on the fun. I know you can do it! Go find some branches and follow along.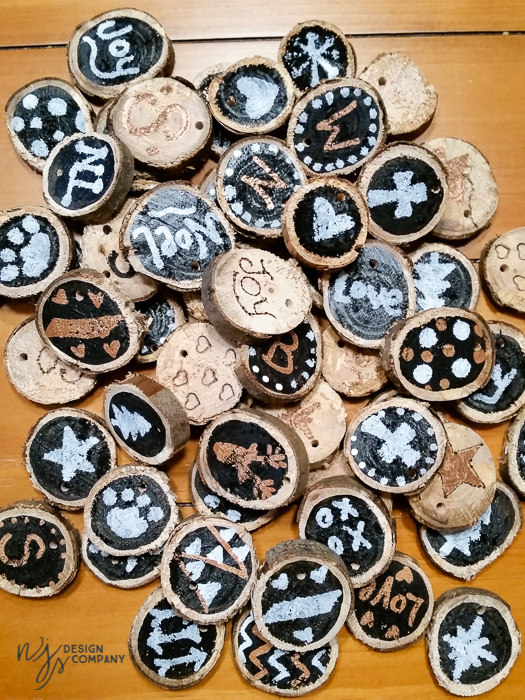 This is a finished pile of them. Just small, little round ornaments. But they are so cute on our tree!
---
Step 1: Hunt
Find a few branches from "out in the woods" as my kids said. Don't worry, they went running like I was going to hit them with the sticks or something…. Mom win! And NO I don't hit my kids with sticks from the woods :).
---
Step 2: Cut
Use a miter or table saw to cut slices of the wooden branches. I tried to trim off as many side pieces of it as I could before laying it on the miter saw. Unlike normal boards that you might be used to sawing, this one is going to be unstable so watch those fingers when you get close to the end. I just tossed mine when it was to close for comfort, no one around this shop's got time to go to the emergency room this weekend!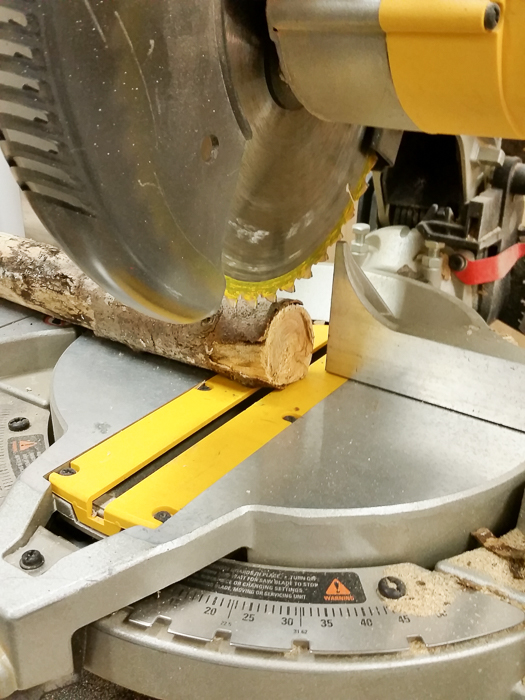 ---
Step 3: Bake
Once you have a substantial amount for your project cut you need to arrange them on a baking sheet. Bake them at a low 200° for over an hour and that will kill any critters or crawlies that might have stuck around until now.
---
Step 4: Drill
I used a 3/16″ drill bit, but you could use whatever size you want or that would work best with your slices. Mine were honestly smaller than I had planned but I knew this size hole would fit most any twine I had around or would buy.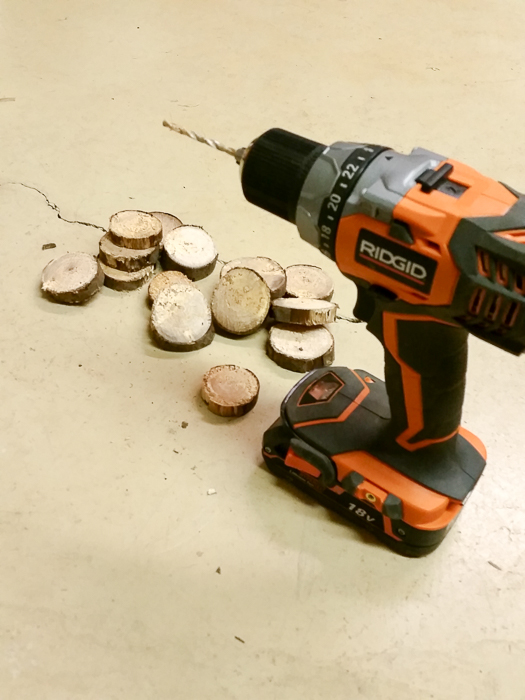 Carefully drill a hole near the top of each slice. Make sure you put something under it, either another piece of wood or cardboard or something you won't drill through.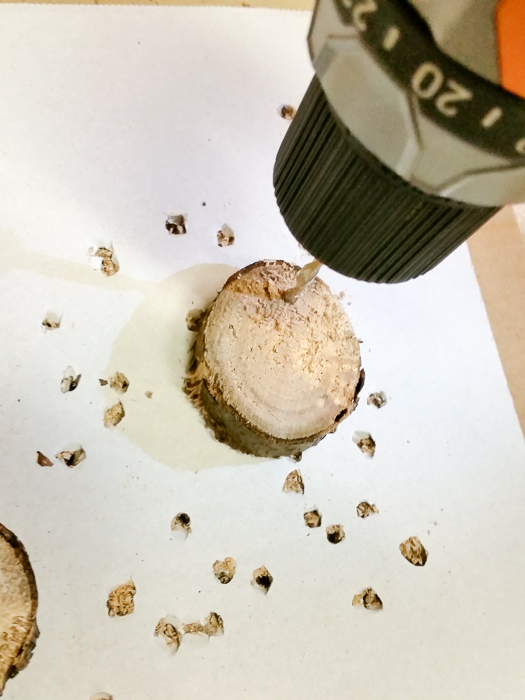 If you get too close to the edge it might break off like these did here. It's ok that's why we cut 100+ of these little guys. Some of this could be due to the nature of the wood as well. Clearly these are not nice barn or kiln dried pieces of wood like we're used to working with so some rot here and there might be expected.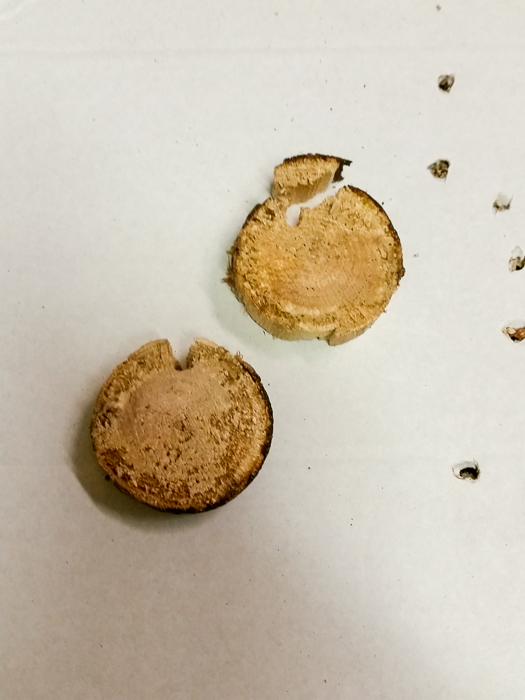 You should be able to get it right up to the edge while still leaving a good space for your creative doodles later on.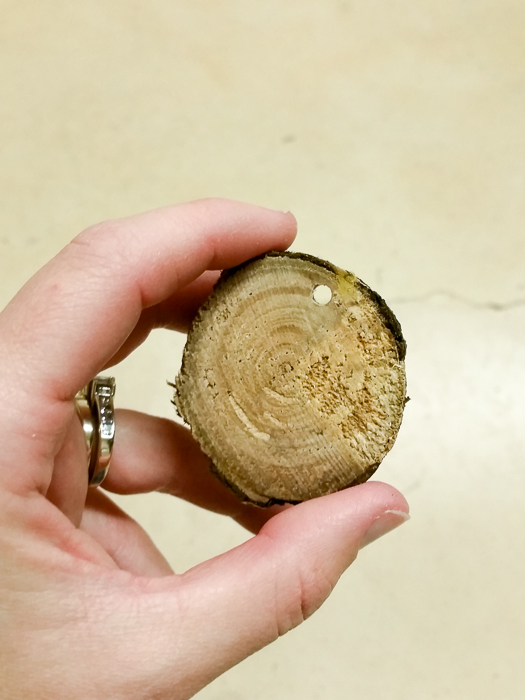 All sliced, baked, and drilled. Now we're ready to paint!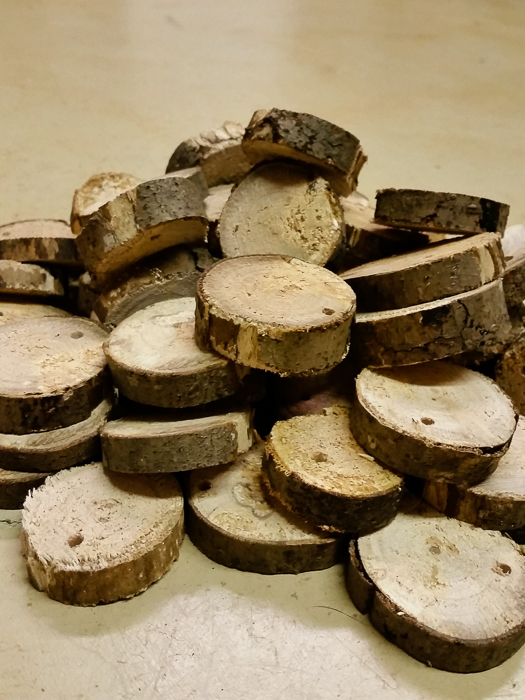 ---
Step 5: Paint
I've had an 8 oz jar of this Chalkboard Paint to use for a few projects now and it's lasted a long time. I bought it off amazon instead of waiting for a coupon to the craft store and then I also didn't buy 10 more things I didn't need from the store. I also keep various colors and brands of paint pens and acrylic paints on hand, any of them would do for this project. I had a specific black/gold/rustic theme I was trying to go for so I stuck with these.
The idea of the chalk paint is fun, you can change it up over time. However, you know your style best and I'd say go with what you want. Some woods you find might be beautiful with a clear coat and no writing at all.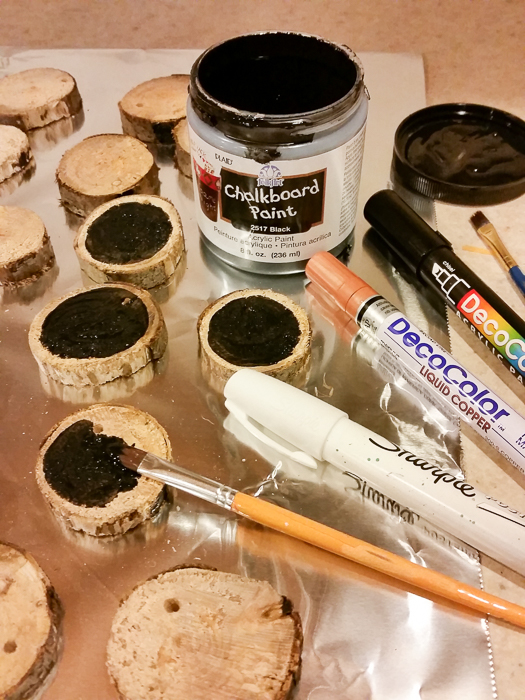 Paint just enough of the chalk paint inside each wood slice to make sure some of the outer ring is visible.
Here they are all painted and ready to dry. I suggest putting 2 coats of the chalk paint on each one if you plan to actually write on them with chalk.
You could also try a wood burning tool or even a plain little sharpie like I did on these back ones. The possibilities are endless.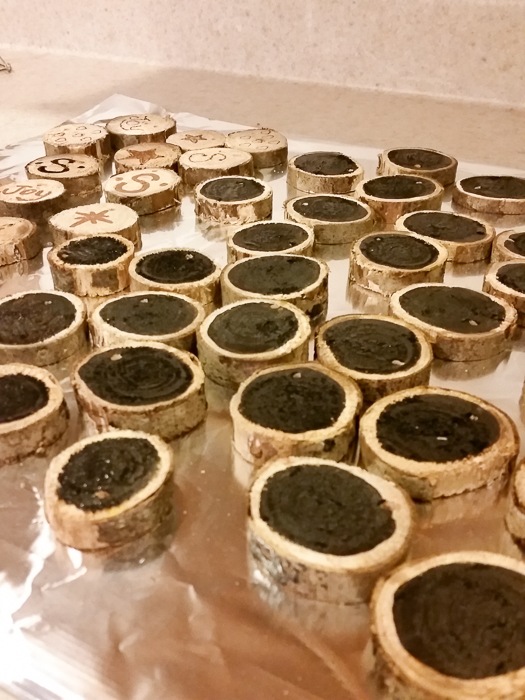 ---
Step 6: Ties
You'll need a good sharp pair of scissors, some twine, and your wood slices.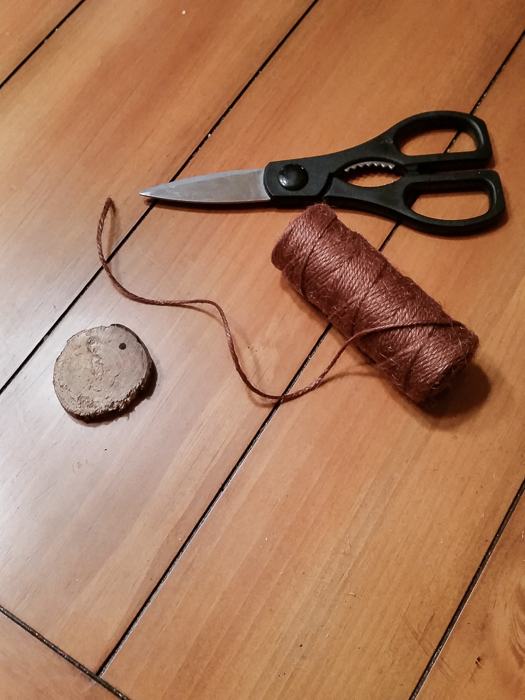 Cut small pieces of twine about 3 inches each and go ahead and make a whole pile of them so that you're not having to cut more along the way.
Enlist help if you're up for it. Or in our case if one of your helpers had had a day to many out of their school routine, and is eager to help, they might volunteer.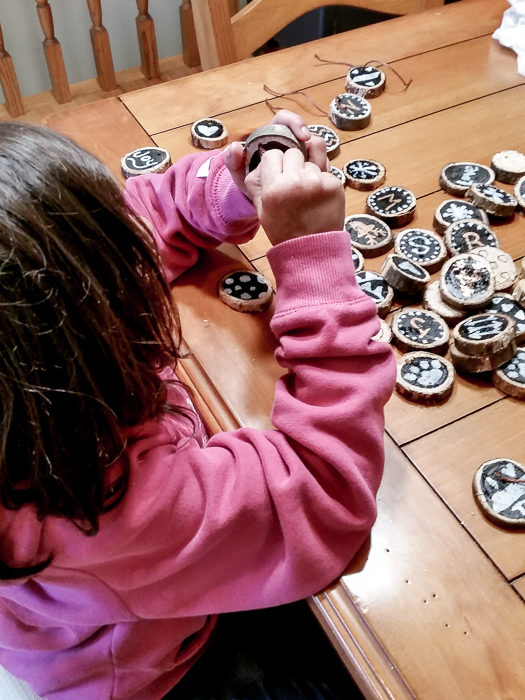 We actually made two ties. I found that the ones I liked the best I wanted to make sure you could really see it and it didn't hang all funny and twisted.
We tied one small loop then a second loop. I got a little fancy on some and did bows too, you could use some really fancy ribbon, colored rafeta, or other thin string to hang these with.
---
Step 7: Admire
Step back and take a look. Don't be afraid to be proud of yourself.
This little Love for Tennessee is one of my favorites.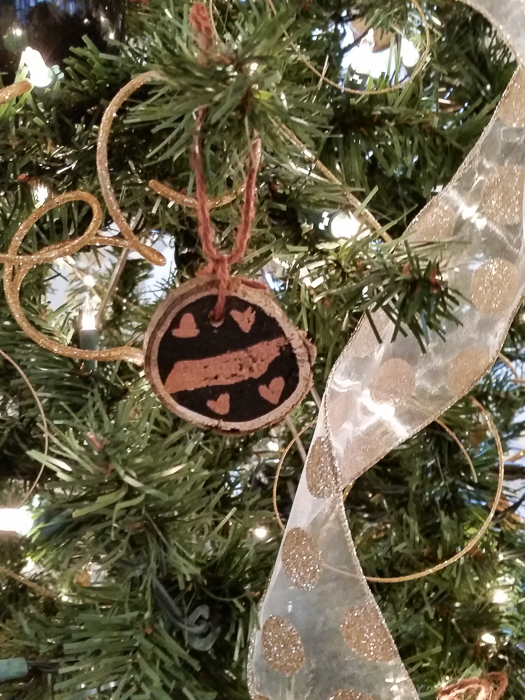 These would blend in well with any decor, but they really mix well here with our gold, silver, and brown tree this year. Won't be long and that base will have a few presents under it. I am imagining them wrapped in brown butcher paper!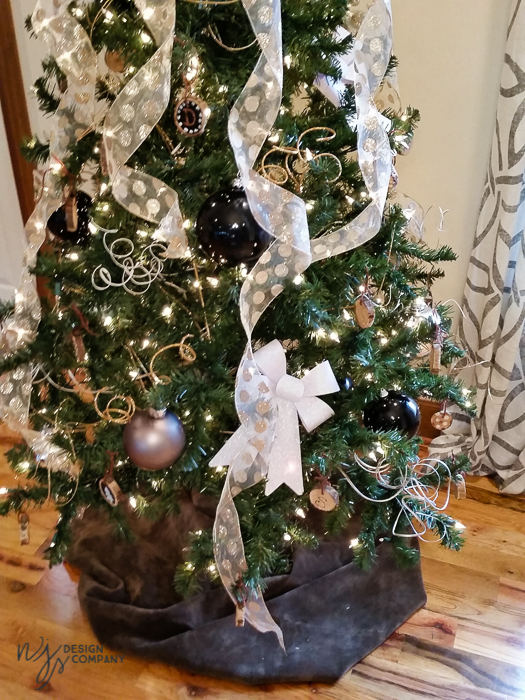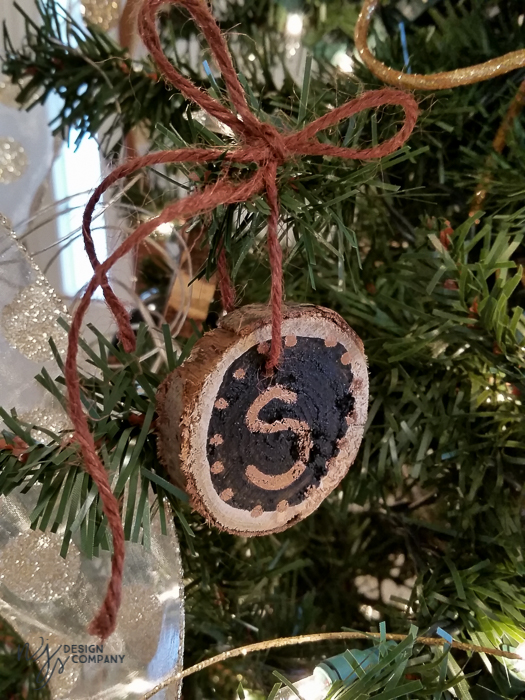 Let me know if you have questions or if there's anything I missed. This would be a fun project for a family, a group of girls, or even as little gifts for teachers.
Now go find a few branches from "out in the woods" as my kids said and get making. If you make some cute ones tag us on Instagram at @njsdesigncompany we'd love to see!