When we got the confirmation to go to Colombia to get our kids, there was nothing stopping me from my fast paced, crazy running around, life. The life of an adopting family ready to travel. As you prepare or maybe if you're already there here are some things to keep in mind for your journey to Colombia, and more specifically to Bogota.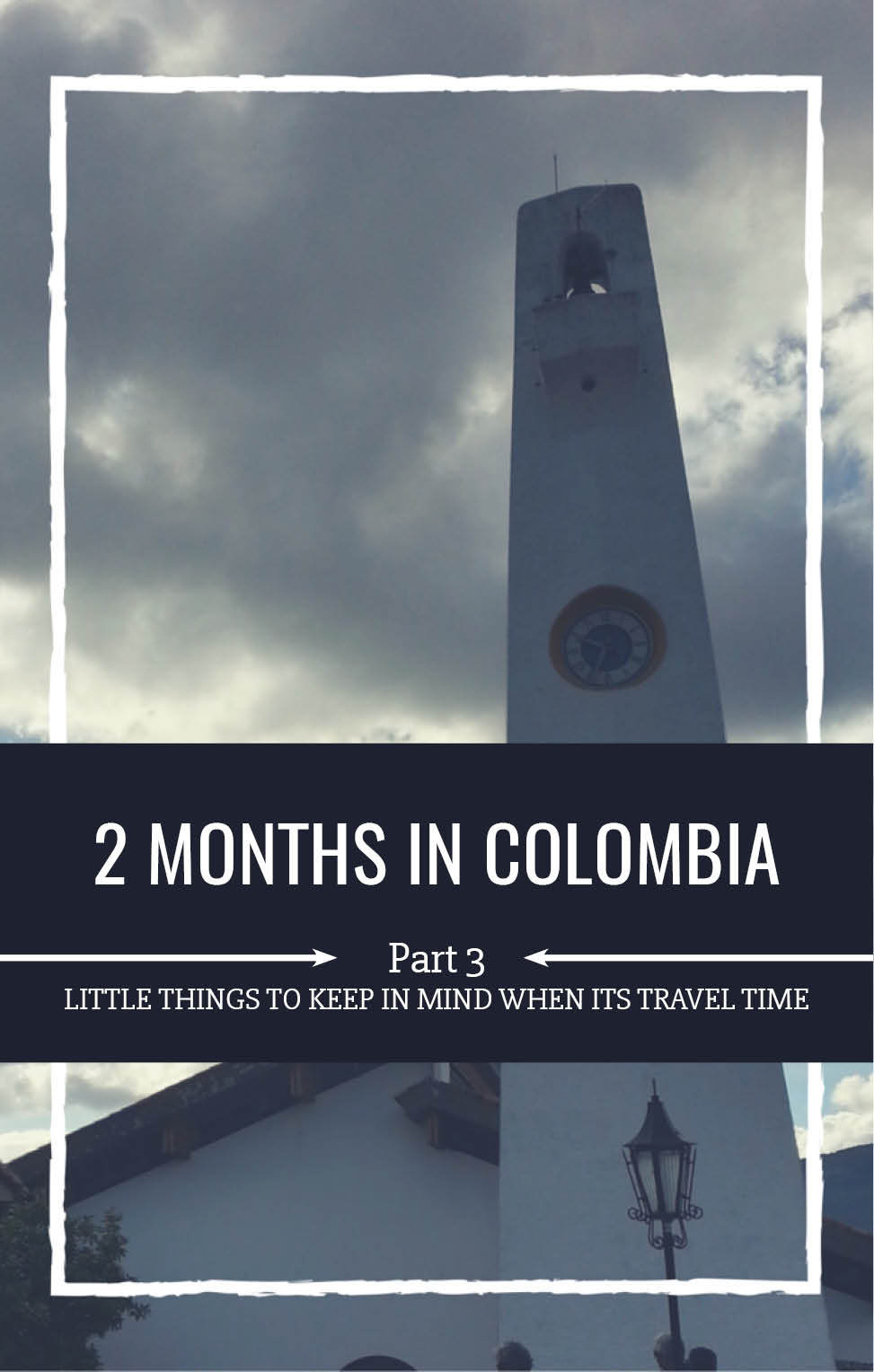 Pace of life
Please don't plan to be in a hurry at all while you are there. Your adoption process is already considered rushed, in case you didn't know. Most court cases in Colombia take months and months if not years to be seen by a judge, let alone settled. Yet we were submitted, seen, and settled in under 8 weeks. To you it seems like a long time, to them it's the fastest process in the country court wise. At the big box stores you will wait in line. No one is in a hurry. We found this refreshing most days. There is so much traffic because there are so many people living there.
Warnings and Safety
There are military and police in sight often. This was especially true as we stayed not to far from a military training and housing area. The men are young, even younger than those enlisting in the US. They carry large military grade weapons on their fronts at all times. Think AR-15. We generally felt safe. We were told not to be out after dark. We obeyed this except for a few times. When we would find ourselves still out late and did walk, we felt like such little rebels. I did feel safer in the daytime, especially with the kids.
I often walked to the store either alone or with one of the kids and always felt safe. It was about a mile there and a mile back, and we didn't have 2 phones so at first I was nervous to head out for so long alone but it became my time to relax and get away. On the airplane I had an older Colombian gentleman comment on my beautiful wedding and engagement rings. He also twisted them around and told me to "walk like this" in certain parts of town. I did that a few times but only the first week or two.
Money
At the time of our trip, the money conversion was about 2000 Colombian Pesos=$1 USD. I checked today and its up to 3000=1 so that's good if you're traveling now.
ATM's in large open areas always made me feel safe. There were small trade centers in the mall that we would trade our USD for CP when we first got there. I would check with your bank on the fees for international ATMs and when you use your card. We specifically signed up for a Capital One Visa card that had the MicroChip in it (they mainly use this down there, but can swipe your card too). Our card had little to no fees and we used it everywhere that took it just for safety, carrying less money on us, and to keep up with spending.
Of course, use your smarts. Don't count money out in front of everyone to see. Don't leave things like wallets and phone out on the table while you are eating. Just be smart. I found it harder to feel the "realness" of money there since it didn't look like my own but you can't let that hurt your smarts, money is money.
Nick thought it was so much fun that he could get out "millions" of anything out of an atm for once in his life, even if it was Colombian Pesos.
Shopping
If you're able to check out the following places to shop while you're in Bogota.
Usaquen– On Sundays they have an open air market with tons of souvenirs and Colombian treasures. There are also some pretty good knockoffs if you're into that kind of thing. My new favorite pair of Ray Ban sunglasses we bought for $10 there! Don't be afraid to bargain either. There is most likely another person selling something similar just 3 people down so if they don't budge with you, go to the next one, and they might come down. I also found it helpful to split my money into different pockets in my backpack and when I knew I wanted something for 100,000 ($50 usd) I would go to my pocket that had that much and say that's all I had. I'm sure some people think that's mean to try to talk them down and honestly if it was something hand made or anything really rare I did not. But if I had seen it for 10 different prices in 30' I would barter. It was kind of fun and if you brush up on your Spanish you won't be nearly as intimidated. I would stock up on as many things as you think you'd want here. Gifts for your kids when they are older. Jewelry, purses, wooden artwork, scarves, you name it. We even found some really good organic local coffee and got to hear their entire story about their plantation. It was a real treat and we went as often as we could after Church on Sundays. It does close down fairly early (around 3 or 4 pm) so if you go to church you've gotta get out and get there!
Unicentro Mall was close to us and was a very large indoor shopping mall with lots of upscale shops. This is where we found a "Payless" shoe store to buy the kids shoes, as well as plenty of electronics stores, toy stores, and clothing stores. If you were missing anything in what you packed and you went to Excito and/or a mall you would be covered.

Palitino Mall was not nearly as big as Unicentro but if you are near it it's worth stopping in. It also had the Cool De Sac Restaurant I mentioned in Part 2.

Santafé Shopping Center or Santafe mall was a huge mall over on the other side of town from where we stayed. This is where Divercity that I mentioned was. It had 3+ floors of stuff and we didn't even get around the entire thing in one day.
Church
We went to Vida Bogota while we were there. They are an evangelical church that is fairly new and very contemporary. They meet in a local High School off of Carrera 7 and Calle 170. The Pastor has lived in Birmingham a lot of his life, is bilingual, and does a great job teaching and loving on the families of the church.
I know it may seem like a crazy task taking a newly adopted child to the store, let alone church…but yall, this was our best time there! Here is their site http://www.vidabogota.org/ there are a few other churches that this group has attended and I my beliefs might be different than yours but this church, the community, the fellowship, was exactly what we needed. This place, these people, filled us up each week and the Lord really used them to keep us calm, saine, and looking to him. The children's workers took our kiddos under their wing and allowed us time to sit in church while they played. Again, that might not work for everyone, we felt safe leaving them in the room next door for an hour while they played and we sang and listened, but friends went with us and often they did not leave their kiddos, which is great too! The culture we were immersed in while at that church was irreplaceable. Even if you are only in Bogota one weekend, I'd encourage you to go. Almost everyone there is bilingual and they were so friendly. Tell the the Sanjines family sent you!
Meetings
We were told to dress up for our meetings at ICBF (la casa for some) and to wear either a suit or something nice. We did, and I think it was a good idea. I just want you to know they will most likely have on jeans, and maybe a polo. We looked out of place, but we looked like we took what we were doing seriously. So know that to them "dress up" is not the same as to us, but do it anyway so that you represent your family and your agency well.
We had a really great meeting 2 days before we got the kids that was held at the regional ICBF office (where later we would meet the kids). Their case worker, social worker, and psychologist were all there. They told us about the kids, one by one, and our guide translated for us. They told us of their schedule, their likes, dislikes, that we'd been calling them the wrong names for 6 months, you know, all the important stuff. They told us how excited the kids were and that they had been telling all their friends, my dad works on computers and my mom is a teacher. It was a really sweet time and super helpful before getting the kids.
Colombian Holidays & Events
Holidays in Colombia are about every other week. But seriously. Please look at a calendar, get a local person, or your agency rep to look at one, and go ahead and mark them in your calendar. This way you don't get sad or upset when something gets postponed one more day. The few Mondays (yes there were a few of them in only 8 short weeks) that Holidays were happening we knew it ahead and it prepared us that no court or official business was happening those days.
On the plus side, American holidays are often not celebrated, except for the big ones. If something is in court and it happens upon an American Holiday you might be in luck and things might not stop for the day. That happened to us as we got our defender to sign on Labor Day and by a day or two later we were having our
There is also a really cool thing that happens on Sundays. It's not exactly a holiday but an event of sorts. They close the streets on Sunday mornings in some of the largest areas of the city just for bikers and walkers. It is a really cool thing to see. I'ts called Ciclovia de Bogota. Look it up and you'll notice it if you're out and around on Sunday mornings
---
Hopefully these last few things were helpful to you as you either plan your trip or are there right now. If by chance you are not exhausted from reading go ahead and check out Part 1 and Part 2. Here are a few last little odds and ends that you might find helpful. Again please keep in mind many of the things in this post are Bogota specific, but many of them are Colombia too! Enjoy your trip and relax, it will be over before you know it and you'll be home with your kiddo(s)!
Odds and Ends
They will call you Gringos and they generally don't mean anything by it, so don't take it as derogatory.

Plantains are not like bananas, they look just like them but they need to be cooked. Raw ones taste like deodorant, just don't.

http://www.domiciliosbogota.com/ is a site that we did not personally use but the idea and word Domicillios was "delivery" basically. If your spanish is good enough and you call a place you can order domicilios (to go) and order from the grocery store, pizza, etc.
---
If you still have questions or are confused about any of the things we've mentioned or if I've left anything out that you'd like more info on, please leave a comment below and we'd be happy to help. Safe travels.