"You don't always need a plan. Sometimes you just need to breathe, trust, let go, and see what happens."
Yea right! Try telling that to a family about to travel to meet their child and finish their adoption process! While we spent 2 months in Bogota we had lots of plans. We had plans before we left, once we got there, and for when we'd return home. Thankfully we were not able to carry through on all of them. We kept our perspective facing forward and focused on Christ. We had to remember the purpose of why we were in this place for this time, and we had to remember it was Him who called us there. So in Bogota for two months…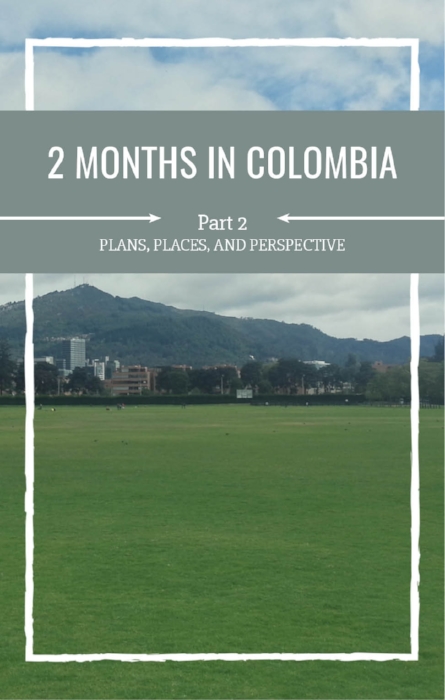 What did we plan to do?
We planned to bond, to work on their English, to work on our Spanish, to learn about the culture, and to just survive. Well we made it home and have been home a while now so we clearly checked off the surviving part. We did bond. Not as much as we did once we got home and they knew we were for real. We had a lot we asked our friends and family to do, and to keep in mind. I sat down all of 3 times to help them learn letters and numbers…total tank. It's ok they are 90% English speaking now. As much as I hated trying to teach them things in English it was mainly because it made me come to terms with how many delays they really had not only academically, but emotionally and developmentally.
What did we actually do?
Because plans change. And that's ok! So we actually went to the park. Like every day. We walked a ton! I lost 10lb. That one I'm not proud of but eh it happened. Nick cooked for hours each day. We watched an embarrassing amount of tv and let them play the tablet shamelessly. "Survival mode is ok" is what we were told before we left. Thank you mama who gave me that advice. I put a little of that advice in my journal too! We went to church every Sunday (didn't expect to get to do that). We spent a ton of money on groceries, especially comfort food, but also just for convenience sake. We watched American Football and Colombian Football. We made a ton of friends and still keep up with most of them. Do this last one, make friends, and keep them!
What would we do different?
We would have taken more day trips out of the city. We would not have brought so much arts and craft stuff. I would have made sure to eat more in the first few weeks with them. I would have loved to fly to another city at some point but we decided to save the money to go on vacation once we were home. I would have bought Colombia Jerseys in bigger sizes for when they were teenagers. We should have bought a cell phone plan for down there, one with data. It was really tough to not have a map, taxi app, or email on the go. It was also a worry for me when we split up for any reason (grocery store, park etc.) we could not get in touch with each other.
---
Places You've Gotta Check Out
Must See List
We did most of these with a guide, either from our agency, a local person, or with some direction, I would recommend doing the same.
Parks of all kinds. We did not go to a bad one the entire time. They were all beautiful.
You must see Lake Guatavita. It's about 35 miles outside of the city. It was about a 2 hour windy trip, my husband almost got sick. The mountains are beautiful. If you don't know this is the lake where the Legend of El Dorado came from.
You child's birth town if possible. This was eye opening to me. Even though we stayed in Bogota, this is not where they were from. These small towns each about 30 minutes apart, but about 1 hour outside the city were such a glimpse into their earlier years.

Monserrate is a tourist destination. It is a mountain that is right outside the city center of Bogota. It is over 10,000 ft above the sea level. There is a church at the top as well. There are small restaurants, cafeteria, souvenir shops and many smaller tourist shops. We went up the mountain by a huge tram. You could climb but Don't, not safe. From the top you can see all of downtown Bogotá, south Bogotá and some sections of the north of the city. If you want to see ALL of where you are staying, go there.
Candelaria neighborhood (old city) We went for the day and it's a great place to just wander round and lose yourself in the little shops, cobblestone streets, and cafes. The rows of buildings are beautiful and you walk gradually up or down hill the whole time depending on where you park or get dropped off. If you keep walking you will run into the Plaza Bolivar and the President's house.
Must Do List
Jeno's pizza. Half price on Tuesdays. Many of them have huge play areas that your kids can play in for hours and you can work or just relax.
Cool de sac Restaurant. This restaurant was in the Palitino Mall. It was expensive, but worth the trip if you really need some time to chill, and let the kids play. The adults eat, work, talk, whatever and the kids play. Not just like at a playground play, they play with supervision and helpers. There was a lego wall, a dress up and makeup area, a climbing wall, a video game area, even an area for toddlers. You receive a pass for 2 hours with your meal purchase and the kids get to play and you eat and they play some more. It was a nice break and a good calm place at lunchtime.
Malls. There are plenty of them, most with modern stores like you would find in the states. They were great for walking around, especially when you needed to get out.

Empanadas! Enough said! Well, try one and then you'll know what I mean.

If you have a balcony sit on it at night, the air is crisp and cool in Bogota at night, it was a relief after putting the kids to bed, to sit by myself and regroup/cry/pray.

Divercity: Address: Cl. 183 #45-3, Bogotá, Cundinamarca, Colombia and the website for it is http://divercity.com.co/ This place was so much fun. It would be good for kids age Kindergarten and up. They give the kids a license, some money and they get to go into the "city" and work and play. They have to work at jobs like a vet (with a real dog and other animals) at the pasta kitchen, at the HP computer center, for chevy, etc. After they work at a job they get paper dollars at the end of each module. They can then go on things like rock walls, river boat, nail painting, airplane, etc to "have fun" and spend their money. This was one of the coolest places I've ever seen and the US is seriously lacking by not having one of these here. There is also one in Medellin.
Museo de Ninos: Its near Simon Bolivar park in Bogota. If you do not speak Spanish well I would recommend either taking a friend/guide with you who does or taking enough money to just sign up for everything since you won't know what they are asking you about. Everything is in Spanish, duh. It is closed certain days of the week, maybe call ahead or check online, they closed on Mondays when we went for city field trips for schools. We went on a Monday, it was closed, kids threw a fit. We went again with some good friends and it was a great time. They have a huge sensory area and lots to do. You choose "courses" if you will and each unit lasts about 15-30 minutes. It is very interactive and not to expensive.
Simon Bolivar Park- We went to this park 2 times and still didn't see half of it. It is over 400 acres (that's bigger than Central Park in New York!) It has really wide and easy to access sidewalks. Plenty of room to have a picnic, throw a ball, or fly a kite. They have tons of food stands and things to eat. We had these crazy Colombian hot dogs that were the messiest thing we ate there. They had all these crazy sauces on it, chips crushed on top and tasted terrible. What an experience. There is a lake with paddle boats, and the park is easily accessible by taxi from anywhere else in Bogota, just mention it and anyone knows where it is.
We Skipped
We often skipped the playground at our own apartment and opted for the larger one. It was a nice amenity to have it but we needed more room to run.

We also skipped the local bus lines and only stuck with the larger ones that required a whole different system. More on that in a minute.

We opted to skip the Salt Cathedral but it might be a win for you.

We opted to skip most of the museums that were not for elementary age kids, if you had a baby in country these would be great for adults.
---
If by chance you are not on overload go ahead and check out Part 1 and Part 3 also. Here are a few last little odds and ends that you might find helpful. Again please keep in mind many of the things in this post are Bogota specific, but many of them are Colombia too! Enjoy your trip and relax, it will be over before you know it and you'll be home with your kiddo(s)!
Odds and Ends
Colombians point with their lips, just watch they'll do it and you might even start to too

If you ask someone a question and they don't know the answer they will lie to you to not be rude and have no answer (watch this one on direction advice, they would rather answer you and be polite with a wrong answer than to be rude and not answer)

In the elevators PP means ground level
---
If you still have questions or are confused about any of the things we've mentioned or if I've left anything out that you'd like more info on, please leave a comment below and we'd be happy to help. Safe travels.