If you are adopting from Colombia and especially if you are traveling to Bogota, for any length of time, during your adoption this post is for you! Bookmark it for later, it's super long and it'll take a while to digest. Here you go!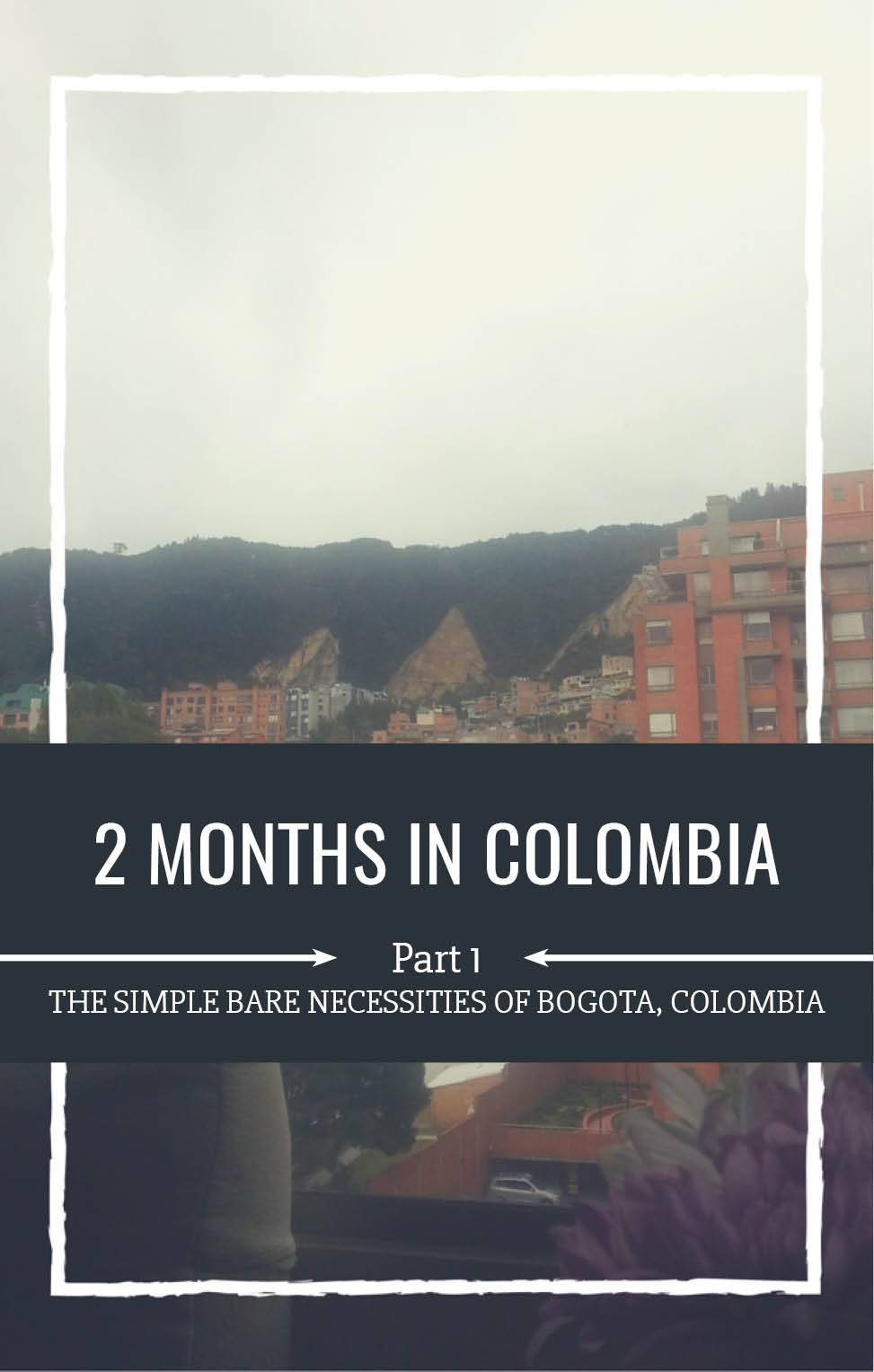 Why so long?
The stay in Colombia will depend on the region in which your child resides. Bogota requires a 5-7 week stay; Medellin and Cali require a 3-5 week stay. It can greatly depend on the court situation at the time as well. We were processed in a smaller rural court because of where our kids were declared adoptable. For example, Bogota has 27 courts, Faca (the city we were assigned to) had only 2. However, Bogota courts accept cases every weekday. Our smaller court only took cases on Mondays and the first Monday we were eligible for was a Holiday! More on that later on.
Bogota
Please keep in mind for the majority of this post I reference our time in Bogota. My plan is to eventually hear these same questions answered by families that stayed in other cities. The city is great. As great as a city of 10 million people can be. The people are generally friendly and no one gave us any trouble. We got to Bogota 3 days before we met the kids. This gave us time to get used to our surroundings and if it's possible for other families I highly recommend it. We really missed our vehicles and didn't realize that being trapped in an apartment would be less than desirable most days. This is a BUSY packed city! You often see people hanging out the side of the bus to pack in tight. We liked it there and tried to soak it up as much as possible.
Where to stay
The apartment we rented was so nice. It cost us approx $3,000 a month. Yes we choked on the amount too. That is more than 3x our house payment and need I remind you we were there 2 months! But we were adopting 3 kids and had accounted for the high rates in the city. Most apartments were $100 a night equivalent. The ones that are less will often charge up to $20 a day for laundry services. We saw many apartments that were much smaller, and had cramped shared areas.
There is a good fit for everyone and a "group" atmosphere was not it for us. We were very happy with the one we chose. The neighbors at this particular apartment took great care of us and helped us with our spanish and things like the internet, phone line, and when Brandon locked the door and we needed a locksmith. We apartment hunted mainly on airbnb.com and vrbo.com, and settled with this one from vrbo. Here are some pictures of it and the contact info for the gentleman that rented it to us: Andres Martinez and his email is andres.martinez@gmail.com. I recently contacted him with no reply, so I'm not sure if he still rents it or not currently.
Here is one more that friends stayed in and we visited, they were happy with it and it's in a good area. http://www.vrbo.com/362893
Food
If you even like burgers, fries, and pizza a little at home you will love and crave them in Colombia. Something about them not being so readily available made them so desirable. I encourage you to try as many foods during your time there as you can. If you're lucky enough to meet some locals ask them to show you how to make Ajiaco (Chicken and Potato Soup). There were so many fruits we had never seen before in our entire lives. They each had their own way to be eaten, some you pick seeds out, some you leave in, some you shake, eat the skin, peel them, on and on the list goes.
Restaurants
There are so many restaurants. Big ones, small ones, local ones and chain type. Like I mentioned above you'd love Jenos Pizza. There are a lot of small cafes that were perfect for getting coffee, ice cream, or churro. In the malls were food courts exactly like in America, some even with familiar chains like subway. If you are really wanting a hamburger there are places like El Coral that have burgers similar to a Five Guys here. Keep in mind they eat BIG lunches and smaller dinners in Colombia. You will often see these huge platters for lunch. If you are not used to eating a big lunch, opt for a platter and share to start with. As mentioned about the pace of life, food it not "fast" in Bogota except for the food stands and places out while you are walking.
Grocery Stores
If you have a few extra of those reusable shopping bags, bring them, they will help you carry groceries. A backpack worked well for us too.
Carulla was the grocery store we went to the most because of location and lack of craziness. Carulla was in general small, we would often pass 3 of them just to and from the park. They were all over the place, easy to find stuff, but a little pricy. It was worth it in our case to be able to walk to it get in and out quick and head home. They took credit cards or pesos with no problem. We even got a frequent shopper card 🙂
Colsubsidio was another smaller grocery store that we went to often. It was a little more difficult to get to only because of the side of the main road we were located on. It had a little longer lines than Carulla but cheaper prices. It had about everything we needed though. Almost every grocery store had a small pharmacy in it as well with most of the medicine being behind a counter.
Exito was a huge (bigger than Walmart) store we went to when we had our driver with us. They have everything you would possibly need. If you are appartment searching and land near one you can rest assured anything you forgot you can get there. They took credit cards with no problem. And yes, we got a rewards card there too!
Markets
If you get a chance to go to a market of any kind, do it. Food market, shopping market, all were filled with good finds and could occupy you for hours. We loved going to the fruit ones to buy produce only, then hit up a bigger store for other items. Where at home we would want to get everything in one swoop, it was nice, and a time filler, to stop and get bread, then stop and get fruit, then stop and get meat, and then head home to cook for 2 hours.
There are lots of small butcher shops around too with fresh meat and eggs. Our first morning there we stopped to get groceries and grabbed some eggs and meat. We were so proud of our Spanish as we ordered lamb and some ribs. The man cutting our meat did not use gloves or sanitation and literally cut it on a band saw like what we use in our workshop. We ate it anyway, and are still alive. Oh and our eggs had feathers on them! Yumm! Fresh!
Street Vendors
We were told by our agency guide to not eat from the street vendors. Not for safety reasons but for the sanitation reasons mentioned previously, that we had experienced. We got a few things from them but bought most of our food from restaurants or stores. It was really cool when we'd sit in traffic to watch them cut and squeeze fresh fruit or to fry up some arepas con queso. There were really small "stands" that were not really street vendors but not a cafe either. Sort of like a convenience store with ice cream and drinks and empanadas. These little "stands" were the best empanadas we found. They are often just right in with all the other store fronts but they actually have a physical store, address, and often even a small table outside of it. You order at a window or counter and it's ready fairly quick. We got to know the gentleman at our closest one and he called us the "gringos con tres ninos" awesome! Miss this guy and his amazing empanadas, he will never know the lengths we go to imitate his cooking.
Transportation
Airport
We brought a stroller solely for the sake of the airport and it's crowds and our need to confine the kids while we waited and stood in lines. I would tell you to pack lighter than you think you need, and make sure you have a place with a washing machine. At the airports most signs are in multiple languages, but that's not a given, know your Spanish for these key phrases and words. Make copies of your passport and put it in every piece of luggage. Bring a spare change of clothes in your carry on bag in case your suitcase gets lost. Pray over your suitcases, that they make it and that's one less thing to make you worry.
Bus
SiTp Urbano was the name of the bus company we used. http://www.sitp.gov.co/index.php This is their main site and this is what their cards look like. This little 30 second video is in spanish but you get the picture. http://www.sitp.gov.co/publicaciones/tullave_es_mas_que_una_simple_tarjeta_adquierela_pub I will be honest it took us a little bit (and some locals help) to find a place that lets you BUY the tullave cards. There are lots of rinky dink places that RECHARGE them but to actually obtain the card was a little difficult. They are like cash and deduct money every time you swipe it on the bus.
Our kids didn't count (if they can sit on your lap) so don't swipe your card for them, just hold them and you only have to pay for yourself. The rides were equivalent to about $0.75 usd per ride per person when we were there. So worth it and so much cheaper than a cab especially with 5 of us. We always felt safe on the busses.
There is an app (Moovit Bogota) for it as well you can download it here. https://play.google.com/store/apps/details?id=com.tranzmate&hl=en We typically routed out our path before leaving the apartment, since we were dumb and didn't buy a data plan. Trust me that is not the place to save money, just spend it, get the data plan. But we made it work, we mapped out our route, I would write down which 4 busses took us from point a to b and also a return route and we tried not to go anywhere that required multiple crazy turns. It had an address place in the app that allowed us to enter where we were going and it would show us busses that went fairly close to where we needed. We often got off the bus and then still walked a little bit to get to the final spot.
The smaller more local buses were cheaper, however we did not feel as safe and they were often so crowded that people were literally hanging out the sides of them and sitting in each other's laps. Overall, we were really happy with our choice to use the big blue ones. They were sometimes orange or red too, but it was all the same company SiTp.
Cabs
Tappsi app was helpful
and highly recommended for this. https://play.google.com/store/apps/details?id=com.tappsi.passenger.android&hl=en
We did not use cabs as much as the bus, but that was part becuase of the size of our party and the size of the cabs, the math didn't always add up 😉 This app allows you to request a taxi, get an estimated time frame, it records the name of the driver, and you feel safer knowing there is a record of who took you. Some of our friends hailed cabs from the store etc, we just didn't that much, but looking back would have been fine too. It was not recommended to though but that app was the way to go if you are going to do it.
Communication
Cell phones
Our cell phones were very helpful for both of us to have. We used them mainly in the apartment with wifi. Where we messed up was not having at least one of them put on an international data plan. I'm not talking about using it for silly stuff like facebook, like we do at home. Do that on your apartment wifi. I'm talking about needing it for maps (yes there are offline ones too but still) and for apps like the tappsi one and bus one I mentioned. Also our agency gave us a small phone that they used to call us on. Many times, almost daily, I went to the store without any form of communication and often took one of the kids with me. It made me so nervous to not be able to have a phone to call back to the agency phone in our apartment if we needed anything. It was also helpful having our phones with wifi at the malls and public wifi places to skype call when we were not in the apartment. And having it for quick pictures was good. Do not leave it sitting out on a table or beside you like you do in the states, someone will come by and snatch it real quick when you are least expecting it, especially if it's a nice one.
WiFi
Make sure your apartment has it. I would suggest looking up reviews for the place you plan to rent and make sure no one commented on crappy internet. If you are like us and worked even a little bit from Colombia, good internet is a must. If they don't have it or it's weak, see if you can negotiate with the leaser for it to be installed or activated during your stay.
Translations
We kept Google Translate up on our phones and computers at all times. This was really helpful when we needed to tell the kids something serious and our Spanish was just not cutting it. Now they have upgraded the app even more and you can take pictures of objects and it translates the sign for you or menu etc. There are plenty of other language apps but we were extremely thankful for Google Translate as well as thankful Spanish isn't that hard to learn compared to Mandarin or some other more difficult foreign languages.
IDs
A Cedula is a Colombian ID card. Like a driver's license but you can't drive with it. It had a specific number tied to it, sort of like a social, but that was your ID number for everything. We got asked for it often and always kept it with us. This was one of the things we had to take a photo for, apply for, and go pickup within the first few days there so it was nice that we got there before getting the kids.
---
Whew I know that is a lot and you are on total overload! If by chance you are not go ahead and check out Part 2 and Part 3. Here are a few last little odds and ends that you might find helpful. Again please keep in mind many of the things in this post are Bogota specific, but many of them are Colombia too! Enjoy your trip and relax, it will be over before you know it and you'll be home with your kiddo(s)!
Odds and Ends
They will NEVER bring you your check or make you feel like you need to leave at a restaurant, you have to ask for your check. You need to say to them "La Cuenta Por Favor" "The Bill Please"

A waiter should and will always swipe your credit card at your table, they should not every walk away with it, this is typical practice

They don't typically expect tips. Even the guy that brought us 20 gallons of water was not expecting one. We gave him a big tip (to him big, to us like $1) and he about kissed us. Do it once you'll cherish their reaction.
---
---
If you still have questions or are confused about any of the things we've mentioned or if I've left anything out that you'd like more info on, please leave a comment below and we'd be happy to help. Safe travels.