Running a handmade business is not for the faint of heart.
You pour your sweat and heart into each project (and prayerfully never your blood).
Selling things online is getting harder and harder by the day. Your portfolio of work is no longer just word of mouth, it's on your Instagram page, your Facebook page, and your website. Taking progress shots can be fun to post to allow customers to see how and where you work. But, these are not the types of pictures that you want as the final image of your custom built furniture and decor.
You worked hard on building a quality custom piece and it deserves to be shown off.
I've come up with different backgrounds for my furniture over time. Often it's been outside in my beautiful backyard. However, one thing I've always had a difficult time mastering is getting consistent images of the things I've built.
Maybe you have the same trouble. Good news, I'm here to help.
Here 15 ideas of backgrounds for taking pictures of your custom built furniture, decor, and more.
Some of these are DIY projects that you can complete really quickly, possibly even with materials you already have. A few others might have you spending a little bit of money on the materials. And lastly, some of them are things you could buy online for a price, rather than going the diy route.
Let's get into the list.
---
1. Wood Planked "ShipLap" wall and fake hardwood flooring
Shiplap is all the rage now thanks to Chip and JoJo over at Magnolia. This classic horizontal paneling is easy to come by, easy to paint, and easy to customize to your look and style. Gail over at My Repurposed Life has a few tutorials for a great-looking movable paneled wall background. She also has a great hint for how she came up with that look like wood flooring. This really takes it up a notch, in my opinion.
2. Painted brick wall
If you have a real brick wall painted or not in your home where you can put a piece of furniture in front of consistently, that would be a very simple background. A faux brick wall for some reason always reminds me of a Subway sandwich restaurant. This paneling is relatively inexpensive at the Home Improvement store and can be painted white for a classic look, or go for a really bright color like in this post from Mr. Kate.
3. Shutters
Shutters are one that I would have previously pegged for a wedding background, but I feel like they are rustic and chic especially if that's your style. They're pretty easy to come by as far as finding different sizes and shapes at local markets, or on craigslist. And because they're not needing to be functional they can even be those cheap plastic ones that are flimsy, just be sure to set them up against something solid.
4. PVC stand backdrop for sheet or paper
Photo booth anyone? This backdrop is probably the most flexible of them all. Once you build this like Shannah did or this one like Jenna did, you'll have the option to hang sheets, paper, and plenty of other backdrops for your pictures. I'm sure if you put enough balloons around it your little kids will even pose for some pictures.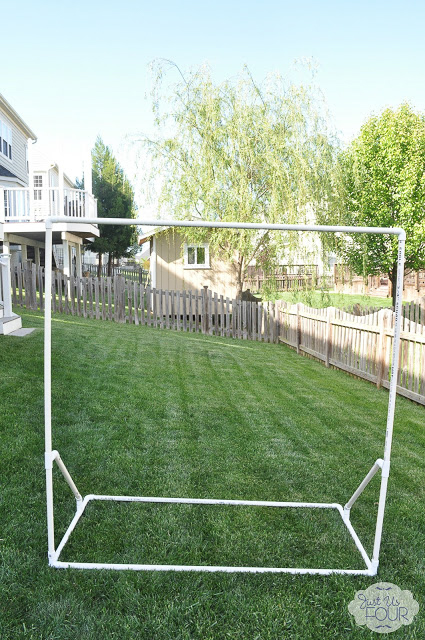 5. Solid Painted Wall
This one should go without saying but a simple painted wall could always do the trick. I do think the issue here is that many of you build in a shop or garage and getting it into your house where a blank wall is might be cumbersome but I promise the consistency and quality of your images will thank you.
Someone who mixes the solid wall with the brick mentioned above is Laura McNelly from McNelly Farmhouse Love like in this picture.
6. Ombre Painted wall
This one's just flat out fun! There are a million other painting techniques you could use on a blank wall but this one is really easy and creates a really subtle backdrop for a picture. I think the special "organic" feel of an ombre technique lends itself well to the harder lines of wood furniture. Give it a try yourself like Maryann did .

or you can even buy pre made wall murals online like these.
7. Pallet Wood Wall
"But I don't have any scrap wood" – says no woodworker EVER! Use those scraps, build a small wall out of them and call it a day. I'd even consider putting up some cool hangers or a removable shelf that you could further "stage" the area with the piece you built.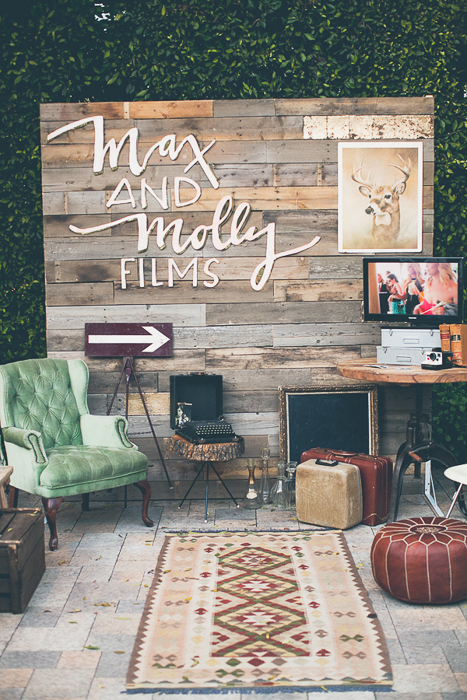 8. Wainscoting and Board and Batten
I'm combining these two because some people use them interchangeably even though when I think of wainscoting I think of a more traditional dining room with it at chair height, and board and batten down a heavily used hallway. Here are a few examples of walls you could create or even use at your home if you already have them in an area.
Wainscoting
Like I said, you might have a wall already in your house that has this on it. If you do have one like this by alex mouldings you could simply move your current piece over, insert one for customer or for sale, and then rearrange your room after the photo.
Board & Batten
I want this stuff all over my house. Mainly because if you smother it in glossy paint you could wipe off all the paw, child prints quickly and easily. It makes a really great accent wall, again maybe in your shop or attached to a movable panel. People are accustomed to seeing it as "in style" now and I think it would take your work to the next level to have this as a consistent backdrop.
9. Beadboard
Beadboard is such a classic, easy to apply backdrop in so many cases. It typically comes in 4×8 sheet which is a great size for larger pieces! We use it on the sides of islands, the panels of a cabinet, the bathroom ceiling, to cover up old wallpaper (oh am I the only one who does those last two?) See how Jenna Sue does it here in a room in her house, this could also be on a wall in your shop that you move a few tools out of the way before you snap a picture.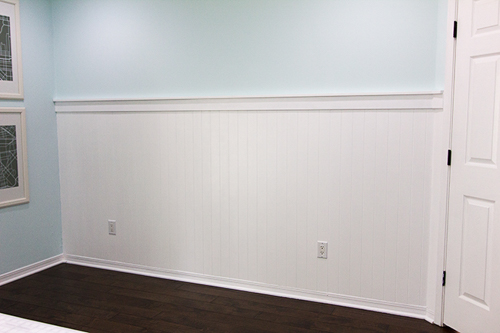 10. Pre designed floor/Wall Planks
There are so many ways to turn current products upside down these days. Or sideways or whatever direction using flooring on walls equals. Here are two examples of two different applications, one is made for walls and the other floors. This one by some of my favorite people online, Ashley and Whitney from Shanty 2 Chic, is actually thin wood you apply to the walls to get that planked wall like in the first example in this post.
The second option is to use peel and stick flooring in a vertical application. Who's to say you can't even flip the pattern and make the area appear taller? That would break the mold.
11. Rug and Staged area
This example immediately came to my mind for anyone not wanting to build anything extra but didn't mind to spend maybe $50 for a solution. Bits of Sawdust did this for quite a few pictures outside their garage for a while and I could always recognize their work when I came across it on social media because of that same blue patterned rug. It's almost summer time and lots of outdoor rugs will be cheap! Grab one soon and you'll be taking better pictures that same day!
12. Fabric Sheet, Drop Cloth or Quilt
For this cute idea I saw you'll need either a homemade or store bought stand of some sort. You could make the PVC one above for $10. There's always duct tape as well, right up to the garage doors or the brick, no shame no one's going to see it besides your neighbors and they already hate you for how much noise your tools make so oh well! Just clip up your backdrop and snap your pics.
13. Garage Doors
Sweet Randi Lynn from The Painted Arrow does a great job of simply placing her table in front of her garage door for a few of her pictures. She makes sure to capture different angles as well and the light from the outdoors is hardly ever going to steer you wrong when trying to accomplish a good after shot. She has some beautiful examples of signs as well as furniture on her instagram that are on cute shelves and staged well.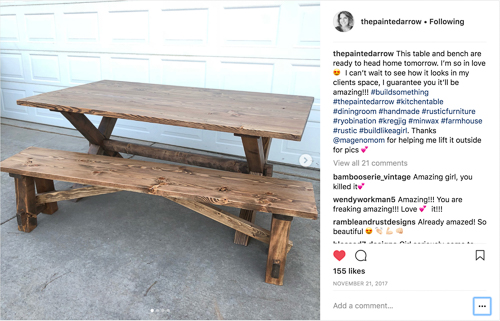 14. Your Yard
I have to brag on this one, we have a pretty stinkin' amazing backyard. It's a huge blessing and one we don't take lightly. Before we moved to this house we had a smaller side yard that I sometimes tried to take pictures in but nothing like the football field that is behind me now. It's a great spot to take pictures of the things I build. It's trade off is that I lose my husband to it for 3 hours every weekend of the summer. haha
Look for a great place around your home to take photos. Often items you've made are easy to get out of your shop and into the yard. Lighting is almost always great, especially if you wait until later in the evening when the sun's not beaming. Don't neglect fences, trees, and other natural places you could lean something up against. The outdoors naturally make your wooden items look great since that's where they came from, nature!
15. In the new owners home
I saved the best for last! Some amazing work done by these guys at Unruh furniture. Customers homes are the most amazing places in my opinion to take a photo of your custom built furniture.
My stipulations on that would be it ideally needs to be staged. Chairs at the table, beds made, books on the nightstand etc. And it needs to be well lit. I suggest always taking pictures before it leaves your hands, but also asking customers to send you some love by snapping a great quality picture of their new piece. If they love it as much as they should, they'll be proud to help you show it off.
A few others worth mentioning:
Some woodworkers have a showroom or a barn or a storefront as well, but I didn't even bother adding that to the list because I realize that's not most of us. #goals right?!
But until then I hope these ideas are helpful and can get you started on taking some amazing photos of your already awesome quality custom built projects.
---
If you've had any success with any of these ideas or if you have some cool ones that I forgot to mention please leave them in the comments, I'd love to add them to the list for others!
---
Are you ready for a website that lets your work stand out from the crowd?
---