SketchUp is my go-to program for anything that I could ever dream to build. For my building project's it's the one thing I really couldn't live without. Yes, the tools are clearly important too, but if I go into the workshop without a plan, I'm wasting time, energy, and money.
Most people are quick to assume that this program is only for architects, engineers, and construction professionals. That simply couldn't be farther from the truth.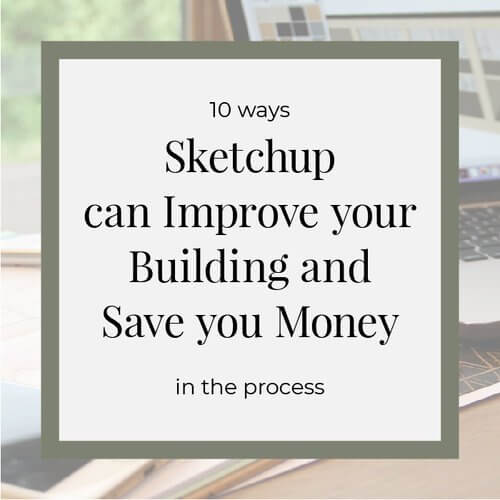 If you're wondering how much it costs, guess, what, it's FREE!
With tools for drawing, grouping and connecting objects, choosing materials, making accurate measurements, and much more, it has countless benefits for DIY'ers, crafters, woodworkers, and fixer uppers, alike.
To get your crafty ideas flowing, here are 10 ways SketchUp can take your DIY furniture building to the next step while saving you time and money.
1 | Designing Individual Components
One of my favorite things about SketchUp is that you can design a larger piece in smaller pieces first. These pieces are known as components.
When you first start to draw out a piece of furniture you start with some of the basic features like legs or the body of the piece.
It really helps you visualize how those smaller pieces are going to fit together to make one larger piece. It also helps you to see very quickly if things look out of proportion or if they fit together just right.
2 | Making Exploded Views
It's very easy once you make an exploded view to see, not only how a piece fits together, but also the order it will need to go in for assembly. You'll be able to see if you need to build it right side up or upside down, attach the sides first, leave the back some overhang, etc.
An exploded view is also very helpful in case you realize you forgot something or need to add another detail somewhere.
3 | Plans To Go Off Of
Once you've built the individual components and possibly taken the time to make an exploded view, you're ready to make a set of plans.
If you've done a good job doing the drawing you may not need an actual set of plans but if you want anybody else to be able to follow along or if you ever want to make that piece again it's very helpful to turn your drawings into a set of plans.
4 | Details You Might Miss
Another one of the huge time and money savers of SketchUp is that it helps you find details that you might have missed otherwise.
It would be so much better and save you so much headache if you find out that something is going to be an 1/8″ off or a few inches too short in a drawing mode than in an actual workshop with money poured into materials.
5 | Bad Math = Wasting Money
So if you've followed us here at NJS Design Company very long at all you know that I am admittedly really bad at math. It was never my strong suit. And once I started using SketchUp and realizing how many less times I messed up on my math, it made my building so much more enjoyable.
I'll tell you what else is enjoyable… not spending double money on materials because of my bad math!
On average for a smaller piece of furniture I might spend an hour or two perfecting a drawing in SketchUp. I could easily get started building, then mess up, because of bad math or another problem, and then have to make one or two trips back to the hardware store which would run me way over the two hours that I spent drawing in SketchUp.
6 | Shopping List
Having an accurate gauge on what you're actually making makes your shopping trips not only more enjoyable, and cost less but you make fewer of them too.
If you've drawn up a plan you will have a much harder time deviating from your shopping list once you actually get to the hardware store. Another one of my favorite things is that since I have built the plan already (in SketchUp) I hardly ever second guess myself on what I need. And, if a substitution needs to be made I can make that decision on the spot instead of trying to refigure someone else's plans.
7 | Cut List
After you go shopping and get home you can confidently enter your workshop and know exactly which boards need to be cut and where to make the best use out of your materials.
You can make your own cut list as you build your drawing in SketchUp or you can use one of its many Warehouse "Extensions" to actually compile a cut list for you. The extension I use is called Cut List. It takes a little bit of setup on the front end by naming your components and being very targeted as to what your groups and components look like, but it is so worth it when in a couple of clicks it can generate an entire diagram of every board that you would buy and exactly how to cut every single one of those boards.
I go over more about these extensions in our free online course SketchUp by Saturday but just know that it's a really sweet plugin and it's free for SketchUp.
8 | Dry Fit Before You Make Your First Cut
If you've built much before, or have been around woodworking terminology you know that title doesn't sound quite right. How can I NOT make any cuts yet, and still do a dry fit?
Even if you're not confident in using the cut list generator you should at least be confident that you have done an entire "dry fit" of your piece of furniture before even having made your first cut.
Dry fitting your pieces together can be one of the most beneficial parts to building a piece of furniture. This being known, if you do it before you make your cuts you can alter any measurements that need altering before ever cutting them. If you wait to dry fit it once you've already made all your cuts it's too late and you may have to make more cuts or possibly buy more wood.
9 | Room Layouts And Envisioning
If you've ever thought about rearranging a room or even moving in a new piece of furniture sketching the idea out on a napkin can be incredibly helpful. And if you think that was helpful what about mapping it out in 2D and then getting to see it in 3-D? That's what you can do with SketchUp.
It takes only a couple of minutes to draw out your walls, throw in a couple of windows, and begin to place your furniture. Don't worry you don't have to build all of your furniture to place it into the model. I use furniture from the 3D warehouse and scale it down to size it doesn't have to look exactly like your grandmother's dresser, it just needs to be the right size to envision it in the room.
This may sound silly but in a couple of the houses that I've lived in I've tried to keep a running model of individual rooms or the whole house so that when I find an awesome piece on Craigslist or I get ahold of a new plan to build, I can play with the design and know exactly where it's going to go, how big it needs to be, and if I'm feeling a little crazy I can even choose a new color for it to!
10 | Confidence You've Built It Once
And lastly I have to give you some encouragement… there is nothing more reassuring than stepping into a workshop space and building something that you've already built once!
I can't think of a time that I built something for the second third or consecutive times that I wasn't more and more confident in my ability and my skills with each consecutive attempt.
Except, in this case, this doesn't have to be the second time you physically built it. You can go in knowing that you have already built it inside of SketchUp, and that you're ready and have the confidence of building at the second time when you're actually doing it the first time in your shop.
---